Quick Links to Best Prices Price History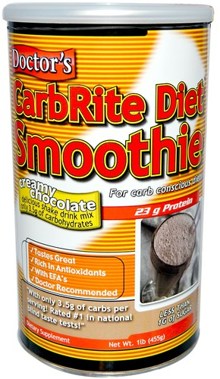 Universal Doctor's CarbRite Diet Smoothie
Universal Nutrition Doctor's CarbRite Smoothie | Now on Sale at
Less Than 1g of Sugar! 23 g Protein. Delicious shake drink mix - only 3.5g of carbohydrates. Tastes great. Rich in antioxidants. With EFA's. Doctor recommended. With only 3.5g of carbs per serving! Rated No. 1 in national blind taste tests! CarbRite Diet Smoothie: The Perfect Doctor-Recommended Smoothie. Change is good. Change is the cornerstone of life.

Now that you've taken on a new outlook on life, a new nutritional philosophy, positive changes are sure to follow. Welcome to the healthy world of Doctor's CarbRite Diet Smoothie. The Doctor's CarbRite Diet Smoothie is a delicious and creamy shake that's high in quality protein and low in fat and unwanted carbohydrates. The CarbRite Diet Smoothie fits perfectly with all low-carbohydrate diets.

According to leading physicians and nutritionists, high carbohydrate diets, particularly those rich in refined foods such as pasta, cereal, bread and the like, contribute to obesity by negatively impacting on the hormone, insulin. By substituting carbohydrates with protein and fats, you'll be more likely to experience positive changes in your health and weight.

With only 3.5g of carbohydrates per shake (and less than 1g of sugar), the CarbRite Diet Smoothies can help you stay sharp and keep your diet on track. Each serving (1 scoop) gives you 23g of the highest quality proteins in the form of soy, whey and milk. But the CarbRite Diet Smoothie is more than just a great source of protein. The CarbRite Diet Smoothie is a well-rounded shake thanks to the addition of important nutrients including key antioxidants, essential fatty acids (EFA's), L-carnitine and digestive enzymes.

Treat yourself to a CarbRite Diet Smoothie whenever you want a delicious treat between meals, or whenever you need to satisfy your carbo-fix. The best thing about CarbRite Diet Smoothie is the flexibility. By adding a few ice cubes and your favorite fruit, you can easily transform your shake into a frosty, healthy smoothie. Here's How: For each scoop you use, mix 4 oz of water, skim milk, or soy milk.

Next, add 4-6 ice cubes and your favorite fruit. Place all the ingredients in a blender and mix for 20-30 seconds. Pour into a tall glass and enjoy! CarbRite Smoothie Highlights: 23g of Protein; Less than 2g of fat; Less than sugars; Rich in soy and whey isolates; With added antioxidants; No artificial sweeteners; Enhanced with essential fatty acids (EFA's); With metabolic nutrients & digestive enzymes. (These statements have not been evaluated by the FDA. This product is not intended to diagnose, treat, cure, or prevent disease.)