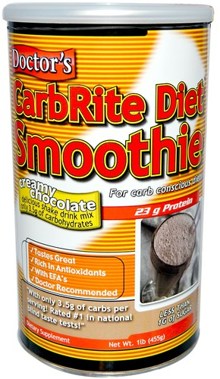 Universal Doctor's CarbRite Diet Smoothie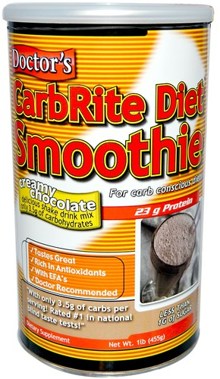 Universal Doctor's CarbRite Diet Smoothie
Description:
CarbRite Diet Smoothie: The Perfect Doctor-Recommended Smoothie
Change is good. Change is the cornerstone of life. Now that you've taken on a new outlook on life, a new nutritional philosophy, positive changes are sure to follow. Welcome to the healthy world of Doctor's Diet and the newest product in its growing line, the Diet Smoothie. The Doctor's CarbRite Diet Smoothie is a delicious and creamy shake that's high in quality protein and low in fat and unwanted carbohydrates.
The CarbRite Diet Smoothie fits in perfectly with all low-carbohydrate diets. According to leading physicians and nutritionists, high carbohydrate diets, particularly those rich in refined foods such as pasta, cereal, bread and the like, contribute to obesity by negatively impacting on the hormone, insulin. By substituting carbohydrates with protein and fats, you'll be more likely to experience positive changes in your health and weight.
Treat yourself to a Diet Smoothie whenever you want a delicious treat between meals, or whenever you need to satisfy your carbo-fix. The best thing about the LowCarb Smoothie is its flexibility. By adding a few ice cubes and your favorite fruit, you can easily transform your shake into a frosty, healthy smoothie. Here's how: For each scoop you use, mix 4 oz. of water, skim milk, or soy milk. Next, add 4-6 ice cubes and your favorite fruit. Place all ingredients in a blender and mix for 20-30 seconds. Pour into a tall glass and enjoy!
CarbRite Diet Smoothie Highlights:
23g of protein
Only 2g of carbs per serving
Less than 2g of fat
No sugars
Rich in soy and whey isolates
With added antioxidants
No artificial sweeteners
Enhanced with Essential Fatty Acids (EFA's)
With metabolic nutrients & digestive enzymes
If you like the Diet Smoothie, then be sure to try Doctor's Diet LowCarb Bar and Carb Block. Together, these three great products can help you keep a positive outlook on your diet goals!
Nutrition Facts:
CarbRite Diet Smoothie Supplement Facts:
Serving Size: 1 scoop (30g)
Servings Per Container: 15
AmountPer Serving
Total Calories 114
Calories From Fat 14
Total Fat 1.5 g 2%
Cholesterol 26 mg 9%
Sodium 155 mg 6%
Potassium 225 mg 6%
Total Carbohydrates 2 g
Sugars 0 g
Protein 23 g 46%
Vitamin C 30 mg 50%
Calcium 250 mg 25%
Iron 1.6 mg 9%
Vitamin D 200 I.U. 50%
Vitamin E 15 I.U. 50%
Riboflavin (B2) 170 mcg 10%
Folic Acid 200 mcg 50%
Phosphorus 115 mg 12%
Magnesium 13 mg 3%
Selenium 35 mcg 50%
Copper 75 mcg 4%
Chromium Picolinate 100 mcg
Essential Fatty Acid Complex 100 mg
L-Carnitine 50 mg
Digestive Enzyme Complex 50 mg
CarbRite Diet Smoothie Other Ingredients:
Whey Protein Complex (consisting of whey isolates and concentrates), SURPO brand soy isolates, calcium caseinate, dutch processed cocoa, natural and artificial flavors, cellulose gum, xanthan gum, carageenan, cholecalciferol, sodium chloride, flaxseed powder, calcium carbonate, ascorbic acid, bromelain, papain, sucralose, d-alpha tocopherol, stevia, folic acid, sodium selenite.
Directions:
CarbRite Diet Smoothie Suggested Use:
Mix one scoop with 6-8 oz. of water, skim milk, or soy milk. For best results, use a blender. Use the CarbRite Diet Smoothie as part of a low fat, low calorie meal or between meals as desired.