Quick Links to Best Prices Price History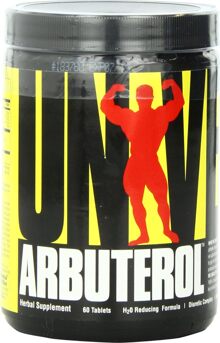 Arbuterol (also known as Arbuterol H2-no) is the newest and most powerful water-management supplement on the market.
With its unique blend of six high-potency herbs, Arbuterol is the most powerful diuretic that you can buy without a prescription.
Potassium-Sparing
Reduce Subcutaneous Water Weight
Enhanced with Key Nutrients
Herbal Diuretic!
Arbuterol: Complete Water Reduction Formula.
To achieve maximum vascularity and definition,
exercise may not be enough. While reducing subcutaneous fat is important, so too is reducing subcutaneous water. If your body fat percentages are low but you still can't see the deep cuts, the problem may be water. Approximately 75% of muscle tissue is made up of water. Water within muscle cells (intracellular) creates an anabolic environment which helps muscles grow. Subcutaneous water (extra cellular) beneath the skin makes your body look soft. Arbuterol may help. With its unique blend of six high-potency herbs and other nutrients, Arbuterol is one of the most powerful potassium-sparing diuretics you can buy without a prescription. When maximum muscle striations are required, turn to Arbuterol from Universal.
Supplement Facts:
Serving Size: 3 Tablets
Servings Per Container: 20
Amount Per Serving:
Vitamin B6: 1mg
Magnesium: 50mg
Potassium: 99mg
Arbuterol Diuretic Complex: 1.9g
Dandelion Extract (20% taraxsterol)
Uva Ursi Extract (20% arbutin)
Guarana (22% caffeine)
Stinging Nettle (whole herb)
Short Buchu Leaf Extract
Hydrangea Extract
Directions:
Take 1 serving (3 tablets) per day on an empty stomach. Elite athletes can take 2-3 servings (6-9 tablets) per day. Do not exceed 9 tablets during any 24-hour period.
These statements have not been evaluated by the Food and Drug Administration. This product is not intended to diagnose, treat, cure, or prevent any disease.