Warning: This product is not currently available at any store.
Click the button above and PricePlow will email you when the first store has it in stock!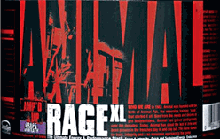 The thrust that pushes you through the gym door, that second wind that doesn't come a second too soon. The kick in the ass you need when it just can't be another one of those days. Shattering the droning monotony of the daily doldrums, this coursing charge of adrenaline-laced electricity could light up a city skyline, but you'll just use it to light up the gym. Though your body has been shifted into overdrive, your consciousness has opened and your mind is clear. This frenetic buzz, this euphoric surge, is the wind pushing your broad sail, the turbo charge that leaves your opposition in the dust.
FOCUS.
A laser-guided vision through the eye of a needle… To be all alone in your head, though surrounded by the rank and file. Just you and your goals on an island. In the zone. Hat pulled low, headphones cranked, you move imperceptibly within a crowd, under the radar. Too big to go unnoticed, you're simply given a wide berth, for no one would dare bother a serious businessman about his business, a fine artisan executing his master craft. Your ideal physique, your powerlifting totals, these lofty goals are defined and delineated in your mind—crystal clear at all times. In the gym, you are simply moving deliberately down the road of your journey, a step at a time closer to the destiny in your mind's eye.
INTENSITY.
Some undertakings require the attention of a serious man. This sort of solemn and sober approach elevates your training to a level of consequence above that of the many who merely "work out". There is nothing casual or laissez faire about the forging of a champion. It is all or nothing, every time. Characterized by calm and deliberate action… Organized and collected thought… A narrowed gaze fixed on a solitary target with the full intent and steadfast resolve necessary to take down your mark, every time. This is true intensity, and not everyone is cut out for training consistently on this elevated plane. To impose control on the unforgiving iron every time, refusing to bend to the will of the crushing weight, is a deadly serious undertaking and not one to be taken lightly. Be prepared to bring it every day as if your life depended on it… Or stay the f**k home.
INSANITY.
The dark recesses of our being must be visited on occasion. Summoning up this inner darkness we know better than to ever expose to the light of day, we delicately toe the razor's edge of sanity. Anger, frustration, mania, madness… These are not the sentiments and impulses of the productive and proper, of those who live their lives constantly in keeping with the constraints of decent society. But in order to excel, in order to break free from the limits placed upon us, in order to transcend the status quo, often extreme measures and excessive efforts are necessary. To do the extraordinary, we must often call upon pain and our inner rage, channeling these often negative emotions and turning them, through hard work and execution, into greatness. The conqueror, the genius, the champion—they all must delicately walk this thin line of lunacy... Living life on the brink. Being, at the right times, just a little insane.
Animal Rage Debut Video