Warning: This product is not currently available at any store.
Click the button above and PricePlow will email you when the first store has it in stock!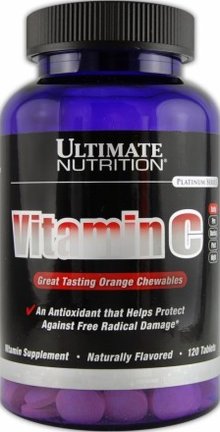 Ultimate Nutrition Vitamin C
Vitamin C, also known as ascorbic acid,
is a water-soluble vitamin that is vital for normal functioning of the body. The human body does not produce vitamin C on its own, nor does it store it. So it is important to include plenty of vitamin C-containing foods in your daily diet. The human body varies greatly in its vitamin C requirement. It's natural for one person to need 10 times as much vitamin C as another person; and a person's age and health status can dramatically change his or her need for vitamin C. The amount of vitamin C found in food varies as dramatically as our requirements.
Antioxidants are nutrients that block some of the damage caused by free radicals, which are by-products that result when our bodies transform food into energy. Antioxidants, such as vitamin C and vitamin E, are an important part of the bodyâ€s defense against muscle damage from exercise. Strenuous exercise increases the bodyâ€s production of free radicals, which, in turn, can cause muscle damage. While exercise increases the bodyâ€s natural defense against free radicals, athletes who are doing intense training may benefit from the addition of antioxidant supplements to their diets.*