Warning: This product is not currently available at any store.
Click the button above and PricePlow will email you when the first store has it in stock!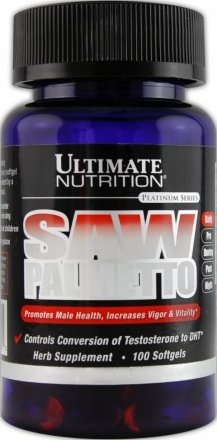 Ultimate Nutrition Saw Palmetto
The same high quality
as the extract, these capsules contain many primary nutrients and elemental minerals essential to good health. The benefits of saw palmetto span the spectrum of optimum wellness and fitness.*
Saw palmetto berries comprise of a volatile oil, which contains a variety of fatty acids, and is high in phytosterols. Saw palmetto, thus, is one of Nature's best and safest remedies to promote male health, and support vigor and vitality.*
Ultimate Nutrition's 100% Premium Saw Palmetto Berries contains standardized extract with fatty acid content in exactly the right amount to help promote health both in men over 50 years of age and also younger male athletes.
FREQUENTLY ASKED QUESTIONS
How Quickly Does Saw Palmetto Work?
Saw palmetto berries may become effective with discernible benefits short periods of time. In some cases, it may be as short as six to eight weeks.
What Are the Side effects of Saw Palmetto?
No side effects of saw palmetto have been reported in any of the studies other than mild gastrointestinal irritation, which resolves of its own accord in a few days after the start of the regimen.
What is Recommended Dosage of Saw Palmetto?
Many different preparations of saw palmetto are on the market, some of which are standardized to phytosterols whereas other are standardized to fatty acids. It is best to do research to obtain the product that best describes the content of various active ingredients. Routinely, a twice-daily dose of 160 milligram of saw palmetto extract standardized to 85% fatty acids and sterols is recommended. From this, the amounts necessary for optimal beneficial effects can be calculated, given the percent standardization of any product.
Does Saw Palmetto Support Healthy Libido?
Yes, over time, saw palmetto has the potential of promoting healthy libido by triggering healthy biochemical processes in the prostate.*
Ultimate Nutrition's Saw Palmetto Berries are harvested at their peak of ripeness. This assures the highest fatty acid content available.