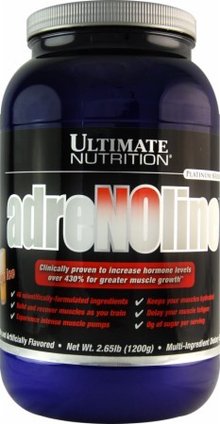 Ultimate Nutrition AdreNOline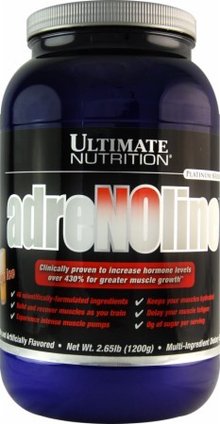 Ultimate Nutrition AdreNOline
Swipe left/right to reveal product information
Scientifically Formulated Intra-Workout Super Drink Mix
AdreNOline is the during-workout formula designed to keep you energized and focused throughout your workout. This intensive blend features 46 ingredients in 9 scientifically-designed blends including Waxy Maze carbs and a BCAA, Energy and Recovery complex:
46 Scientifically-Formulated Ingredients
Build and Recover Muscles as You Train*
Experience Intense Muscle Pumps*
Keeps Your Muscles Hydrated*
Delay Your Muscle Fatigue*
0g of Sugar per Serving
3g of BCAAs per Serving
Vitamin and Mineral Blend
Digestive Enzymes
AdreNOline gives you 110% for the 110% you give. Ignite your workouts and take your muscle pumps to ultimate levels with 46 ingredients in 9 scientifically-designed blends:*
Glycomaze Complex
Anabolic BCAA Complex
Quick pro Complex
Hydration Complex
NO DyNOmite Complex
Recovery Complex
Fatigue Extender Complex
Energy Complex
Enzyme Complex
AdreNOline is recommended for anyone looking for a during-workout drink to keep muscle hydrated, build and recover muscles during training, delay fatigue, and experience intense pumps. AdreNOline is your ally—in the gym and on the field.*
AreNOline Frequently Asked Questions
1. Why is a During-Workout drink so important?
The consumption of nutrients immediately during-workout is essential. It helps the body recover from a grueling workout, replenish glycogen stores, repair muscle tissue, and reduces post-workout soreness. And the sooner nutrients are consumed and absorbed, the sooner the body can go from a catabolic (muscle destroying) state to an anabolic (muscle building) state.*
2. Why did you add protein to your carbohydrate drink?
Most endurance athletes have been well versed in the importance of carbohydrate replenishment drinks already. Protein, on the other hand, is usually associated with strength and power sports such as bodybuilding. While it's true that endurance athletes do not require large amounts of protein in their regular meals, research has gradually been reshaping our idea of the ultimate during-workout drink. When consumed during aerobic exercise, a drink containing carbohydrate and protein in a 4:1 ratio provides better hydration, greater endurance, less muscle damage, and faster muscle recovery.*
3. What is Glycogen?
During digestion carbohydrates are converted into glucose, which is used as an immediate source of "fuel." Glucose that is not directly used to provide energy is converted to glycogen. Thus, glycogen is the stored energy, which the body taps into when energy demands are placed on it.*
Selected References
Mcconell, Glenn; Kloot, Kate; Hargreaves, Mark. Effect of Timing of Carbohydrate Ingestion on Endurance Exercise Performance. Medicine & Science in Sports & Exercise. 28(10):1300-1304, October 1996.
Niles, Eric S., Lachowetz, Tony, Garfi, John, Sullivan, William, Smith, John C., Leyh, Brian P. and Headley, Samuel A.. Carbohydrate-Protein Drink Improves Time To Exhaustion After Recovery From Endurance Exercise. JEP online, 2001 4(1):45-52.
Saunders, M. J., M. D. Kane, and M. K. Todd. Effects of a Carbohydrate-Protein Beverage on Cycling Endurance and Muscle Damage. Med. Sci. Sports Exerc., Vol. 36, No. 7, pp. 1233-1238, 2004.
Tarnopolsky MA, Bosman M, Macdonald JR, Vandeputte D, Martin J, Roy BD. Postexercise protein-carbohydrate and carbohydrate supplements increase muscle glycogen in men and women. J Appl Physiol. 1997 Dec;83(6):1877-83.
Wright DA, Sherman WM, Dernbach AR., Carbohydrate feedings before, during, or in combination improve cycling endurance performance. J Appl Physiol. 1991 Sep;71(3):1082-8.