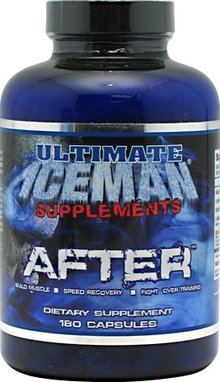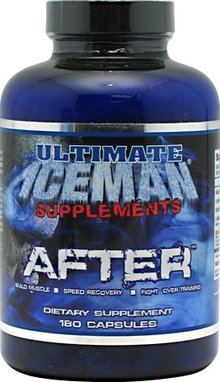 Ultimate Iceman's "AFTER" will enhance the explosive Nitric Oxide effect as well as help to speed recovery. We have added a high dose of Citrulline Malate along with the muscle recovery and building ingredients Glutamine AKG and BCAA AKG. "AFTER" features the synergistic combination of 5 very powerful ingredients. "AFTER" provides the potent strength and recovery inducing Citrulline Malate with the muscle building Carnosine precursors Beta Alanine and L-Histidine.

Supplement Facts:

Serving Size: 6 Capsules
Servings Per Container: 30

Amount Per Serving:
L-Histidine 500 mg
Citrulline Malate 1,000 mg
Beta Alanine 1,500 mg
L-Glutamine-Alpha-Ketoglutarate 1,000 mg
BCAA-Alpha-Ketoglutarate 1,000 mg

Ingredients: Gelatin, Magnesium Stearate.

Directions:
As a dietary supplement, take 6 "After" capsules once daily with your post workout protein drink within 30 minutes after exercise. For best results, take 6 capsules of Ultimate Iceman's Pre Workout product "Before" immediately prior to exercise.

Note: Manufacturers continually change product specifications. While we try our best to keep product descriptions up to date, they do not necessarily reflect the latest information available from the manufacturer. We are not responsible for incorrect or outdated product descriptions and/or images.

These statements have not been evaluated by the Food and Drug Administration. This product is not intended to diagnose, treat, cure, or prevent any disease.