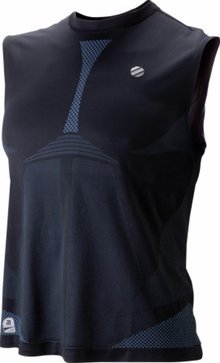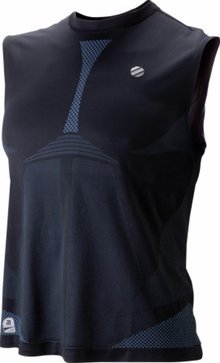 When the game heats up will you be ready? Myogrid™ ICE (Intra Cool Energy™) delivers revolutionary smart cool-dry power tuned to your body's core temperature system for extreme training performance and comfort. Ice the competition.
UFC LIGHT HEAVYWEIGHT
RASHAD EVANS
ICE Sleeveless Tee
Additional Images:
Click to Enlarge
Micro Cooling:Fabric that pulls elevated thermal radiation from your body, generating cooling up to -3C to combat overheating during intense training or game play.
Moisture Sensor Control: Advanced breathable 2 way sensor wicks moisture from your skin while blocking outer moisture from penetrating.
Nano Drying: Triple layer capillary action absorbs and transfers sweat to the outer fabric surface in 1 second for fast dry performance.
Antimicrobial: Durable nano technology for long lasting protection against odor and bacteria.
UV Protection: Titanium oxide + organic composites for powerful SPF 50+ sun protection.
Mobility: Super 4 way stretch for maximum mobility freedom.
MP3 Feature: Cord management ports for earphone use.