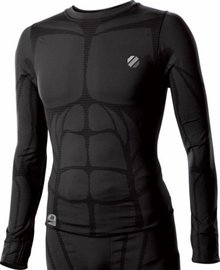 UFC AIM Compression Long Sleeve Tee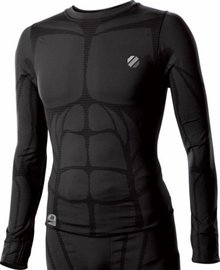 UFC AIM Compression Long Sleeve Tee
Get ready to dominate with Myogrid™ AIM (Anatomic Interface Mapping™), the next generation in
sports compression
wear technology.
Engineered to your musculature grid on a seamless chafe-resistant 'second skin', AIM harnesses
a complex design of targeted compression zones for ultimate high athletic performance.
UFC LIGHT HEAVYWEIGHT
PHIL DAVIS
AIM Compression Long Sleeve Tee
Additional Images:
Click to Enlarge
Propulsion: Elastane energy tuned to your concentric and eccentric actions for breakthrough efforts in speed and power.
Core Stability: Advanced dual core stability design for maximal dynamic performance during explosive movements.
O2 Transport: Compression induced blood flow transport for reduced fatigue and aiding recovery.
Body Control: Targeted muscle vibration control for physical strain reduction, while increasing muscle coordination.
Myofresh: Weaved composite for lifetime antimicrobial performance + optimized moisture wick action.
Postural Balance: Tectonic body alignment for posture support and athletic balance.
Mobility: Super 4-way stretch for maximum movement freedom.