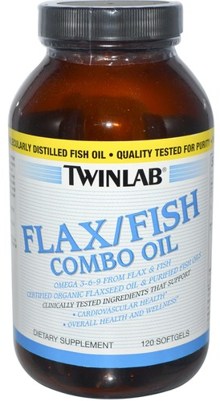 Twinlab Flax/Fish Combo Oil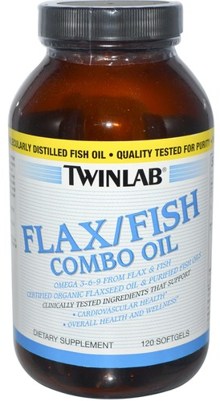 Twinlab Flax/Fish Combo Oil
Product Highlights
Omega 3-6-9 From Flax & Fish
Certified Organic Flaxseed Oil & Purified Fish Oils
Clinically Tested Ingredients That Support Cardiovascular Health and Overall Health and Wellness*
How it Works:
Twinlab Flax/Fish Combo Oil contains a unique, breakthrough blend of certified organic flaxseed oil and pure oils derived from marine sources, which deliver a long lasting, sustainable supply of EPA and DHA. The fish oils provide your body with EPA and DHA while the flaxseed oil delivers ALA, which can convert into EPA and DHA, providing you with a dual-action formula. These fatty acids are needed by the body and can aid in supporting a healthy heart. *
One of the most important things you can do for your health is increase your intake of the omega-3 fats located in fish oil and cod liver oil, and lower your intake of omega-6 fats. A rich, economical and high quality natural source of the omega-3 polyunsaturates EPA (eicosapentaenoic acid) and DHA (docosahexaenoic acid). Omega-3 fish oil originates from the flesh of deep sea, cold water fish. *
The fish oils in this product are carefully screened to ensure you are getting ingredients that are fresh and safe.