Quick Links to Our Prices
How does this work and how do stores get listed? See our disclosure below to learn more. Price History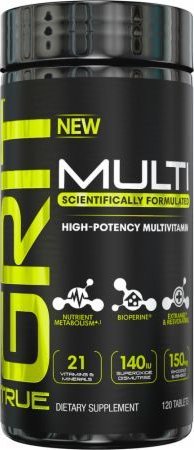 21
VITMAINS & MINERALS
140IU
SUPEROXIDE DISMUTASE
150MG
RHODIOLA & GINGKO
WHAT'S YOUR GRITNESS?
"You're an extreme athlete with hard goals. An athlete who brings a level of gritness to everything you do. For the days you drove through a blizzard to get to the gym...for the times you trained legs when everyone else was training chest...for the nights you trained back when you had the flu. We salute the iron warriors who are a 10 on the scale of gritness. It's for trainers like you...who fight adversity with everything they do...that we made True Grit supplements. To give you the edge you need to dig deeper and get grittier!"
HIGH-POTENCY MULTIVITAMIN
The all-new True Grit Multi is an advanced multivitamin that delivers the nutrients athletes want for general health support. Engineered to deliver vitamins, minerals, phytonutrients and enzymes, True Grit Multi will help support your healthy diet.
NO PROPRIETARY BLENDS
True Grit supplements have absolutely nothing to hide. That's why there are no proprietary blends in any True Grit product. Proprietary blends are used by some brands to hide that they are using underdosed levels of premium ingredients. That's not what True Grit is about. True Grit supplements contain premium, fully dosed key ingredients, so you'll know exactly what is in the supplement you're putting in your body. You won't find ineffectual doses of any ingredients in our products because we know that you don't want to pay for a product that isn't going to work. That's what other brands expect you to do if they're using miniscule amounts of ingredients just to claim it's on the label. With True Grit you can trust that you're getting only the best supplements formulated using the best scientific research.
100MG
RHODIOLA EXTRACT
50G
GINGKO BILOBA
25MG
AMYLASE
50MG
JAPANESE KNOTWEED (RESVERATROL)
Resveratrol is a polyphenol that has strong antioxidant properties. Resveratrol is commonly thought of as coming from grape skins and red wine, however True Grit Multi sources the powerful antioxidant from the Japanese knotweed plant. Japanese knotweed extract is a cutting edge source of reservatrol.
20MG
GRAPESEED EXTRACT
Grape seed extract is derived from the ground-up seeds of red wine grapes.
25MG
PAPAIN
20MG
AMLA EXTRACT
Amla is an Ayurvedic ingredient with long standing traditional use.
18MG
CHOLINE BITARTRATE
Choline is a nutrient that plays a key role in maintaining the structural integrity of the cell membranes in your body, including muscle cells. In addition, choline is a precursor for acetylcholine, and important neurotransmitter in the brain, and is involved in skeletal muscle innervation (muscle control).
10MG
EXTRAMEL
True Grit Multi contains the specialized ingredient, Extramel M, a specific variety of rock melon concentrated in Superoxide Dismutase (SOD).
Extramel is a concentrated natural vegetable source of SOD. It uses an exclusive patented encapsulation technology to protect the SOD content.
5.3MG
BIOPERINE
BioPerine is a patented extract of piperine obtained from the black pepper fruit.