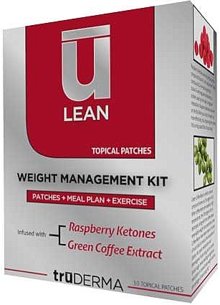 truDERMA ULean Topical Patches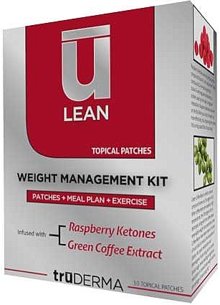 truDERMA ULean Topical Patches
WEIGHT MANAGEMENT KIT
Raspberry Ketones
Green Coffee Extract
Raspberry Ketones are the primary aroma compounds found in red raspberries. These compounds [4-[4-hydroxyphenyl) butan-2-one] regulate adiponectin, a protein used by the body to regulate metabolism. Raspberry Ketones also work on the fat within your cells to break it up more effectively, thus improving the natural fat burning capabilities of your body.Green Coffee Beans contain a natural compound known as Chlorogenic Acid. When coffee beans are roasted at high temperatures, the Chlorogenic Acid is destroyed along with the coffee beans remarkable weight loss properties. Green Coffee Bans have been shown in human clinical trials to reduce the absorption of dietary fat, spark metabolism and thermogenic fat burning, and to control blood sugar levels leading to significant reductions in overall body weight and the percentage of total body fat.ULEAN weight management kit includes vital tools to help you get incredible results...the only think you need to supply is the desire to change, and the dedication to achieve your goals!
Topical Patches
Meal Plan & Calorie Guide
Exercise Tips & Log
* These statements have not been evaluated by the Food and Drug Administration. This product is not intended to diagnose, treat, cure, or prevent any disease.