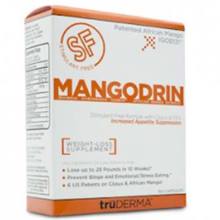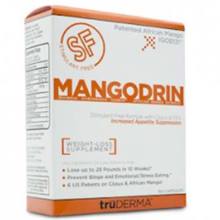 (For the appetite suppressant effects of Mangodrin without the stimulants, try Mangodrin SF.)*
Powerful Thermogenic and Weight Loss Aid*
African Mango Weight Loss Supplement!*
Lose up to 28 Pounds in 10 Weeks!*
Increased Metabolism and Energy to Burn!*
Effective Appetite Control!*
Full 30 Day Supply!
African Mango Irvingia Gabonensis
The rare and powerful Irvingia Gabonensis seed of African Mango has long been known to the tribes of Cameroon for its fat burning, antioxidant, and appetite suppressing properties. Now you too can join the celebrities and super-food insiders that are taking advantage of its rapid weight loss and detoxifying benefits.*
Do African Mango Diet Supplements Really Work?
Yes! A 10 week double-blind, placebo controlled African Mango research study produced tremendous results in many key weight loss variables including body weight, body fat, and waist size. Further enhancing this formula is Green Tea extract which has also been shown to promote weight loss. This exciting combination may play a very important role in body fat reduction when used in conjunction with a calorie controlled diet and exercise program.*
Natural, Healthy Fat Burner Supplements
African Mango extract is the basis for our healthy, natural fat burner supplement Mangodrin. Try it today and put the power of nature and science to work to suppress your appetite and burn fat. Now is the time to melt away those extra pounds!*
Mangodrin
Metabolic Syndrome is a common disorder arising as a result of the increased prevalence of central obesity. Roughly 300 million adults world-wide suffer from Metabolic Syndrome. Insulin resistance and Inflammation are the underlying causes for Metabolic Syndrome. Metabolic Syndrome is a multitude of pathological processes that place you at risk for heart disease, diabetes, cancer, stroke, and dementia. Now there is IGOB131 a revolutionary new ingredient that addresses central obesity and the associated markers of Metabolic Syndrome such as high blood glucose levels, LDL cholesterol and C-reactive protein.*
Proprietary, patented dietary supplement IGOB131 extracted from Irvingia gabonensis:
Weight loss diet aid targeting central (abdominal) obesity.*
Corrects Leptin Resistance and reduces proinflammatory cytokines.*
Helps lower blood sugar and cholesterol levels.*
Safe, effective and clinically proven.*
Mechanism of Action
IGOB131 is a unique, patented (US patent 7,537,790 and world wide patents pending) extract of Irvingia gabonensis seed kernals. These seed kernals are a culinary staple and medicinal plant of West African communities. Irvingia is believed to induce fat-loss via four different mechanisms:
It up-regulates the expression of adiponectin, thereby improving insulin sensitivity.*
It is associated with lower levels of C-reactive protein and helps restore the dual weight control effects of leptin.*
It inhibits the enzyme glycerol-3-phosphate dehydrogenase, thereby reducing fatty acid formation in the body and reducing the amount of blood glucose that converts to fat.*
It inhibits the enzyme amylase, thus reducing the amount of ingested starches that will be absorbed as sugar.*
Safe, Effective, and Clinically Proven
In one 10-week double blind study, 102 overweight subjects received either 150mg capsules of IGOB131 extract or placebo, twice daily before meals. At the end of 10 weeks, the IGOB131 group lost an average of 28 pounds, 6.7 inches from their waistline and reduced body fat by 18.4%. Also serum chemistry changes demonstrated IGOB131 patients reduced total cholesterol by 26%, LDL cholesterol by 27%, fasting blood glucose levels by 32% and serum CRP levels by 52%.*
Who Should Buy It?
People who want to control their body weight and maintain healthy cholesterol and/or blood sugar levels, especially individuals who suffer from central obesity or symptoms of metabolic syndrome. People interested in maintaining cardiovascular health, as well as health in general, would benefit by supplementing their diet with IGOB131.*