Quick Links to Best Prices Price History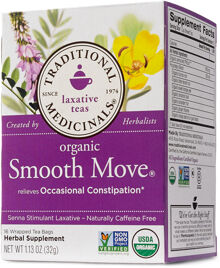 Traditional Medicinals Chocolate Smooth Move
Organic Smooth Moves Senna provides gentle, overnight relief from occasional constipation (Irregularity). Senna leaf promotes bowel movement by direct action on the intestine.*
How do I know it works? A single serving provides an effective dose of sennosides from senna leaf, which have proven stimulant laxative action. We include additional digestive support with fennel, orange peel, cinnamon, coriander and ginger to ease discomfort and reduce cramping.
When should I use it? Drink one cup before bedtime. Repeat the next day if needed. Organic Smooth Move Senna will generally produce bowel movements in 6 to 12 hours.
How does it taste? Its sweet and slightly bitter, with citrus-orange and spicy notes&best tasting laxative youll ever drink!
Herbal Stimulant Laxative* Tea
Clinically Tested
USDA Organic
Caffeine Fr