Warning: This product is not currently available at any store.
Click the button above and PricePlow will email you when the first store has it in stock!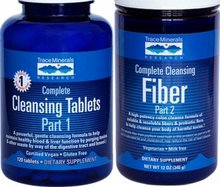 Trace Minerals Complete Cleansing Combo
Complete Cleansing Tablets Part 1 provides a gentle cleansing, helping remove toxins by way of the digestive tract and bowel.*
The complete Cleansing and Anti-Toxin System is a great way to begin a health program. It works in two stages just as the body's own cleansing and anti-toxin system works in two parts. In part one, a combination of herbs and trace minerals helps the body filter out the toxins and waste products.* In part two, we use a combination of psyllium seed powder, whole psyllium husk and apple fiber which gently sweeps and cleanses the bowel.*
The fiber allows for a thorough cleanse without the discomfort of diarrhea. We then add a high potency nine strain acidophilus complex to aid in the establishment of healthy intestinal flora and tone the intestinal tract.* The trace minerals in our cleansing formula act as a catalyst for the herbs and help eliminate heavy metal toxicities.*
Best of all, it's completely natural, so you can cleanse your body without interrupting your lifestyle. Used occasionally, it's a great way to begin the road to optimum health.*
For best results, use daily with Complete Cleansing Fiber Part 2-High Potency Fiber Complex with Acidophilus.
Also includes over 72 ionic trace minerals from seawater. ConcenTrace is a trade name for concentrated sea minerals from the Great Salt Lake.
Complete Cleansing Fiber Part 2 is a masterful blend based on psyllium, the amazing natural fiber with significantly higher soluble fiber than even oat bran. But we go further—50% of the psyllium is whole (not powdered) husk fiber for maximum cleansing and 50% is whole powdered psyllium seed for maximum bulking. We also add natural soluble apple fiber to round out the fiber complex.‡
The formula contains 194 million colony forming units (CFU) per serving of Lactobacilli and 9 other complementing strains of friendly bacteria (flora). This complex of milk-free intestinal flora is ideal to assure maximum benefit under a variety of conditions.* It aids in digestion, intestinal tone, and oxygenation and especially helps promote a healthy flora balance.*‡
What is especially unique about this combination of fiber and flora is that the non-digestible fiber acts as a carrier to support the safe arrival of the precious flora past the harsh digestive tract to the lower bowel where it can flourish.*‡
In addition, as soluble fiber reaches the large intestine, the prebiotic fibers begin to ferment and yield short chain fatty acids, which support the function of many regulatory systems in the body.*‡ Prebiotics benefit the body by boosting production of the beneficial cultures that naturally reside in the digestive tract and help aid digestion.*‡ These beneficial cultures help promote the natural, healthy bacterial balance of the intestines, support good gut flora, that may even help ease occasional indigestion.*‡ You may expect a wide spectrum of nutritional benefits.*‡
The soluble fiber from psyllium seed husk in this product, as part of a diet low in saturated fat and cholesterol, may help support a healthy heart.*
A serving of Complete Cleansing Fiber supplies 4 grams of soluble fiber from psyllium husk.
Complete Cleansing Fiber should be taken with at least a full glass of water. Taking this product without enough liquid may cause choking. Do not take this product if you have difficulty in swallowing.
‡Do not use this product if you have abdominal pain or diarrhea. Consult a health care provider prior to use if you are pregnant, nursing, have blockage of the bile ducts, acute gallbladder inflammation, intestinal blockage or kidney stones. Discontinue use in the event of diarrhea or watery stools. Do not exceed recommended dose. Not for prolonged use.