Quick Links to Our Prices
How does this work and how do stores get listed? See our disclosure below to learn more. Price History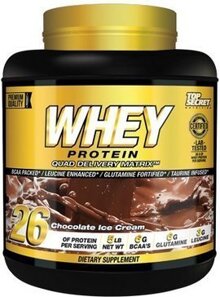 Top Secret Nutrition Whey Protein
MORE PROTEIN SYNTHESIS    MORE LEUCINE
MORE GLUTAMINE    MORE TOTAL BCAAs
MORE MUSCLE GROWING NITROGEN*AND MORE PROTEINTop Secret Nutrition doesn't play games with "Artificial" protein content. Each batch of TSN whey protein is labtested to ensure 26g of high quality protein from whey, and only whey.
G OF PROTEIN
G BCAAs
G GLUTAMINE
G LEUCINE
IF YOU ARE LOOKING FOR RESULTS, YOU HAVE FOUND YOUR WHEY PROTEIN*
You Work Hard In The Gym, You Deserve A Protein That Works Hard For You!
Top Secret Nutrition Whey with Quad Delivery Matrix is the idealblend of Microfiltered Whey Protein Isolates, Whey Hydrolysatesand Whey Protein Concentrates, fortified with critical muscleprotein synthesis enhancing aminos. Each serving is packed with26 grams of protein, 6 grams of BCAA's, 6 grams of glutamine 3grams of leucine, and 4 grams of taurine. Why taurine? Because recent clinicalresearch in muscle recovery suggests that post exercise combining taurine and BCAA'sresults in less muscle soreness and faster recovery. 1*
The Quad Delivery Matrix allows for protein to be delivered
at different rates, from super quick amino delivery
to muscle tissuesto slower absorbed protein for longer
nitrogen levels. TOP SECRET NUTRITION WHEY
contains high levels of BCAA's,glutamine and
essential amino acids in a great
TOP SECRET'S WHEY PROTEIN is hands down the best protein supplement for muscle recovery and:
Maximize Your Training Efforts*
Maximize Your Protein Synthesis*
Maximize Nitrogen*
Maximize Muscle Recovery And Growth*
Take Top Secret Nutrition's Whey
With Quad Delivery Matrix*
Reference
1. Additional Effects of Taurine on the Benefits of BCAA Intake for the Delayed-OnsetMuscle Soreness and Muscle Damage Induced by High-Intensity Eccentric Exercise. Advancesin Experimental Medicine and Biology.
2013. 776, 179-187.