Warning: This product is not currently available at any store.
Click the button above and PricePlow will email you when the first store has it in stock!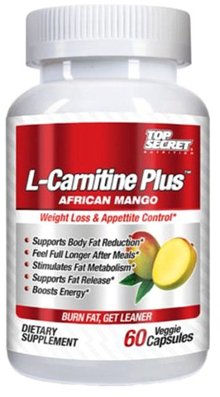 Top Secret Nutrition L-Carnitine Plus African Mango
Supports Full Body Fat Reduction*
Feel Full Longer After Meals*
Stimulates Fat Metabolism*
Supports Fat Release*
Boosts Energy*
About L-Carnitine
L-Carnitine is a naturally occurring amino acid which plays a vital role in the metabolism of fat. It functions as a transporter of fatty acids into the mitochondria, the metabolic furnace of the cell. It has been established that an adequate supply of L-carnitine is necessary for the maintenance of good health and energy. L-carnitine transports long-chain fatty acids across the mitochondrial membrane to be metabolized. L-carnitine aids in the release of stored body fat, called triglycerides, into the bloodstream for energy.*
Supplementing with L-Carnitine One interesting and very new study involves the enzyme carnitine palmitoyltransferase that is implicated in appetite (food control) in the hypothalumus of the brain.*
There are many well-controlled studies that have been duplicated that involve L-carnitine supplementation and the reduction of lipoproteins (fatty acid proteins) in the body. Also, in a study with overweight subjects L-carnitine supplementation increased weight loss significantly over the contol group.* The l-carnitine subjects received 2000mg of L-carnitine per day. Body fat percentage level also decreased by a statistically significant level.*
While everyone may not experience such a dramatic effect of weight loss with carnitine, those individuals following a reduced carbohydrate diet, and incorporating aerobics and/or strength training could very well benefit in greater reductions through the use of supplemental l-carnitine.*
---
About African Mango (Irvingia Gabonensis)
Irvingia gabonensis (African Mango) is a tree that grows in the Eastern Central African states. An extract of the fruit seed has been and is currently being studied for its benefits in supporting leptin sensitivity (one of the anorexigenic neuropeptides) , and weight loss management.*
Irvingia gabonensis (African Mango) is high in soluble fiber which is suggested to support healthy lipid levels, in conjunction with a normal diet and moderate exercise in overweight individuals.* It has also shown the ability to help slow the rate of carbohydrate absorption as well as having a potential starch blocking effect.*
Fat cells (adipocytes) secrete a hormone called leptin that tells our brain (in the hypothalamus) we have eaten enough. Leptin can also facilitate the breakdown of stored triglycerides in our adipocytes (fat cells) via the process of lipolysis. (the breakdown of fats). Heavy individuals have startlingly high blood levels of leptin, indicating that their cells have become resistant to the leptin that is supposed to prevent them from putting on so many fat pounds.
African Mango is suggested to have beneficial effects upon leptin blood levels, promoting weight loss and inches.*