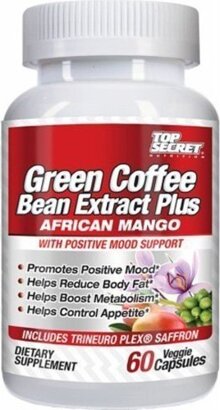 Top Secret Nutrition Green Coffee Bean Extract Plus African Mango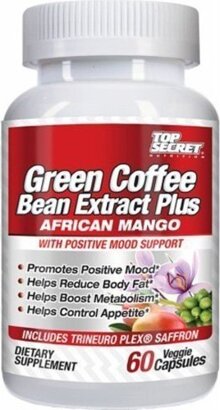 Top Secret Nutrition Green Coffee Bean Extract Plus African Mango
Green Coffee Bean Plus African Mango
Combines two very well studied plant extracts along with mood support phyto-nutrients. This blend is designed to positively help balance the dieting blues that can occur with a weight loss program.*
---
About Green Coffee Bean Extract
Green coffee extract is not a type of stimulant. Per serving, green coffee extract only has about 15 mg of caffeine. The weight loss and fat loss benefits are derived from entirely different actions. Green coffee beans are coffee beans that haven't been roasted. The heat of the roasting process reduces the amount of chlorogenic acid, responsible for the health benefits of the coffee bean. So compared to regular roasted coffee beans, green coffee beans have a higher level of chlorogenic acid. Chlorogenic acid (CGA), one of the phenols in coffee, is the second major component in coffee after caffeine.
The chlorogenic acid in green coffee bean extract has been suggested to:
Support glucose and lipid (fatty acid ) metabolism, by both limiting the action of fatty acid synthetase which is an enzyme responsible for converting excess glucose (blood sugar) into fats for storage, and also promoting the oxidation of stored fat (fat burning).*
Increase metabolism (energy expenditure)
---
About African Mango (Irvingia gabonesis)
Irvingia gabonensis (African Mango) is a tree that grows in the Eastern Central African states.
---
Benefits of African Mango
Slowing Carbohydrates:Irvingia gabonensis (African Bush Mango) is high in soluble fiber which is an accepted lipid-lowering supplement In conjunction with a normal diet and moderate exercise in overweight individuals.* Research on fat cells suggests that African Bush Mango has alpha-amylase-inhibiting properties which may help support a slowing of the rate of carbohydrate absorption from the intestines and a reduction of the caloric impact of starchy and sugary foods.*
Reducing Appetite: Fat cells (adipocytes) secrete a hormone called leptin that tells our brain (in the hypothalamus) we have eaten enough. Leptin can also facilitate the breakdown of stored triglycerides in our adipocytes (fat cells) via the process of lipolysis. (the breakdown of fats).
---
Aronia Melanoarpa (Chokeberry)
Aronia melanocarpa
Aronia Melanocarpa have a higher anthocyanin(flavonoid pigment) content than either Grape Seed Extract or Blueberries. Due to this large content of anthocyanidins, Aronia melanocarpa appear to have greater anti-oxidative benefits.* Research suggests that different polyphenolic compounds in Aronia melanocarpa can have beneficial effects in weight loss due to the inhibition of α-glucosidase. This action would promote greater fatty acid metabolism (fat burning).*
Mood Support Blend in Green Coffee Bean Extract Plus African Mango
L-Theanine • Griffonia Simplicifolia • TriNeuro Plex Saffron (Crocus sativus) Extract
L-Theanine
L-Theanine is an amino acid that helps promote a restful, relaxed state without diminishing daytime alertness. It has the ability to cross the blood brain barrier. It does not have the side effects of diminished cognitive function that many relaxation agents possess. The addition of the African Bean (Griffonia simplicifolia) helps amplify the effectiveness of the Mood Support Blend. The Crocus sativus extract (TriNeuroPlex) has been used in middle eastern traditional medicine for centuries to help relax and support mood.*