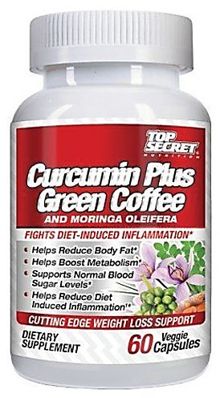 Top Secret Nutrition Curcumin Plus Green Coffee and Moringa Oleifera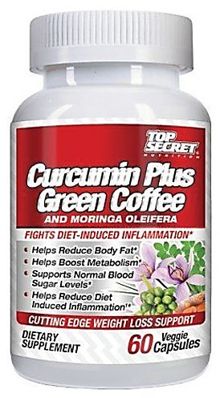 Top Secret Nutrition Curcumin Plus Green Coffee and Moringa Oleifera
Cutting Edge Weight Loss Support
Helps support a healthy inflammation response*
DIET INDUCED INFLAMMATION MAY BE AFFECTING YOUR WEIGHT!
THE VICIOUS CYCLE
Recent research indicates that regular consumption of certain foods such as sugar, grains, refined vegetable oils, can lead to diet-induced inflammation; which in turn sets the stage for many conditions that make it very hard to lose weight. These conditions can negatively affect fat storage and fat metabolism making it difficult to lose weight. So the crux of the issue is that the more fat cells we have, the more diet induced inflammation that can occur, the more diet induced inflammation that occurs, the more fat cells we get, and so on.
ABOUT
CURCUMIN
Research on ways to slow the development of fat have
traditionally focused on dietary and lifestyle modifications such
as restricting caloric intake and increasing physical activity.
An area that has recently aroused considerable research interest
is investigating the potential role of spices, particularly the Asian
spice turmeric, in promoting weight loss. Curcumin is the principal curcuminoid of the popular Indian spice
turmeric, which is a member of the ginger family. Evidence suggests curcumin may help improve fat metabolism by supporting a healthy inflammation response.* Additionally, the studies indicate that curcumin helps to inhibit adipocyte differentiation (fat cell development), promote antioxidant activities and positively affect adiponectin.* Adiponectin is secreted by the fat cell and stimulates fat burning. The addition of BioPerine, a black pepper extract improves the bioavailability of the curcumin, improving its functionality.*
ABOUT GREEN COFFEE EXTRACT (GCE)
STANDARDIZED FOR 50% CHLOROGENIC ACID
Green coffee beans are coffee beans that haven't been roasted. The heat of the roasting process reduces the amount of chlorogenic acid, responsible for the health benefits of the coffee bean. So compared to regular roasted coffee beans, green coffee beans have a higher level of chlorogenic acid.
The chlorogenic acid in green coffee bean extract has been suggested to:
Support glucose and lipid (fatty acid) metabolism, by limiting the action of fatty acid synthetase which is an enzyme responsible for converting excess glucose (blood sugar) into fats for storage.
Helps promote the oxidation of stored fat (fat burning).*
Promote metabolism (increased calorie expenditure).*
ABOUT MORINGA
OLEIFERA
The Moringa tree, commonly known as the "Miracle Tree", has leaves that contain vitamins a,b,c,d,e and minerals including potassium, calcium, iron, selenium, and magnesium. The leaves also have essential amino acids which are not commonly found in plants, as well as vegetable proteins.
SUPPORTING NORMAL BLOOD GLUCOSE LEVELS*1

A review of the scientific literature reveals that the Moringa oleifera shows promise in helping maintain plasma glucose levels already within normal range and studies are currently ongoing to determine the mode of action.* Moringa oleifera Lam (Moringaceae) is a highly valued plant, distributed in many countries of the tropics and subtropics. It has an impressive range of medicinal uses with high nutritional value.*
top secret nutrition curcumin Plus green coffee & moringa oleifera
Helps Reduce Body Fat*
Helps Support a Healthy Inflammation Response*
Supports Normal Blood Sugar Levels Already In Normal Range*
Helps Boost Metabolism*
FREQUENTLY ASKED
QUESTIONS
Q. Does CURCUMIN PLUS GREEN COFFEE &
Moringa Oleifera contain caffeine?
A. The caffeine content is very low, less than 10 mg per serving.
Q. When should I take CURCUMIN PLUS GREEN
COFFEE & Moringa Oleifera
A. This product helps support a healthy inflammation response.* For best results, take two (2) veggie capsules with meals.
Q. Can I take this product with other diet supplements?
A. Absolutely, Curcumin Plus Green Coffee & Moringa Oleifera is designed to take in combination with any of our other weight management supplements.
(1) Shimoda H, Seki E, Aitani M. Inhibitory effect of green coffee bean extract on fat accumulation and body weight gain. BMC Complement Altern Med. 2006;6:9.
(2) Cho AS, Jeon SM, Kim MJ, et al. Chlorogenic acid exhibits anti-obesity property and improves lipid metabolism. Food Chem Toxicol. 2010;48(3):937-43
(3) Thom E. The effect of chlorogenic acid enriched coffee on glucose absorption in healthy volunteers and its effect on body mass when used long- term in overweight and obese people.* J Int Med Res. 2007;35(6):900-8.
(4) Narita Y, Inouye KJ. Kinetic analysis and mechanism on the inhibition of chlorogenic acid and its components against porcine pancreas alpha-amylase isozymes I and II. J Agric Food Chem. 2009;57:9218-25.
(5) Tunnicliffe JM, Eller LK, Reimer RA, Hittel DS, Shearer J. Chlorogenic acid differentially affects postprandial glucose and glucose- dependent insulinotropic polypeptideresponse. Appl Physiol Nutr Metab. 2011 Oct;36(5):650-9.
(6) Johnston KL, Clifford MN, Morgan LM. Coffee acutely modifies gastrointestinal hormone secretion and glucose tolerance in humans: glycemic effects of chlorogenic acid and caffeine. Am J Clin Nutr. 2003;78:728-33.
(7) Jaiswal D, Kumar Rai P, Kumar A, Mehta S, Watal G Effect of Moringa oleifera Lam. leaves aqueous extract therapy on hyperglycemic animals. J Ethnopharmacol. 2009 Jun 25;123(3):392-6. doi: 10.1016/j.jep.2009.03.036. Epub 2009 Apr 5.
(8) Anwar F, Latif S, Ashraf M, Gilani AH. Moringa oleifera: a food plant with multiple medicinal uses. Phytother Res. 2007 Jan;21(1):17-25.
(9) Mbikay M. Therapeutic Potential of Moringa oleifera Leaves in Chronic Hyperglycemia and Dyslipidemia: A Review. Front Pharmacol. 2012;3:24. doi: 10.3389/fphar.2012.00024. Epub 2012 Mar 1.
(10) Mangge H, Summers K, Almer G, Prassl R, Weghuber D, Schnedl W, Fuchs D. Antioxidant food supplements. Curr Med Chem. 2013;20(18):2330-7.
(11) Aggarwal BB, Gupta SC, Sung B. Br J Pharmacol. 2013 Feb 20. doi: 10.1111/bph.12131. [Epub ahead of print]Curcumin: An Orally Bioavailable Blocker of TNF and Other Pro-inflammatory Biomarkers.
(12) Bengmark S. Integrative medicine and human health - the role of pre-, pro- and synbiotics. Clin Transl Med. 2012 May 28;1(1):6. doi: 10.1186/2001-1326-1-6.
(13) Bradford PG. Curcumin and obesity. Biofactors. 2013 Jan-Feb;39(1):78-87. doi: 10.1002/biof.1074. Epub 2013 Jan 22.
(14) Jurenka JS Properties of curcumin, a major constituent of Curcuma longa: a review of preclinical and clinical research. Altern Med Rev. 2009 Jun;14(2):141-53.
(15) Shoba G, Joy D, Joseph T, Majeed M, Rajendran R, Srinivas PS. Influence of piperine on the pharmacokinetics of curcumin in animals and human volunteers. Planta Med. 1998 May;64(4):353-6.