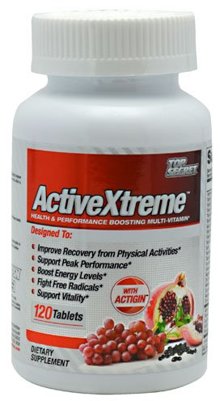 Top Secret Nutrition ActiveXtreme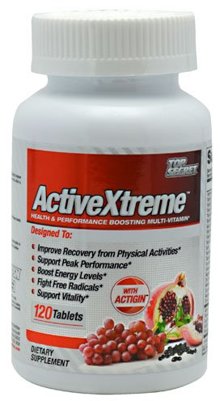 Top Secret Nutrition ActiveXtreme
Health & Performance Boosting Multi-Vitamin & Mineral*
Improve Recovery from Physical Activities*
Support Peak Performance*
Boost Energy Levels*
Fight Free Radicals*
Support Vitality*
This multi-vitamin, mineral, anti-oxidant and performance enhancement supplement is designed to improve energy, recovery, and vitality. ActiveXtreme takes vitamin supplementation to a new level as this is a multi-vitamin and mineral supplement that you can feel.*
ActiveXtreme uses Actigin, a revolutionary all natural food and dietary ingredient that has been shown in human studies to increase energy, endurance, oxygen and aerobic capacities and decrease several forms of oxidative damage to muscle cells.*
Top Secret Nutrition ActiveXtreme is Formulated for:*
Active individuals.
Athletes.
Anyone who is recovering from an illness, accident or surgery.
People under stress.
Students who need the energy and stamina to maintain mental alertness.
Anyone who needs more energy and wants faster recovery from physical activities that induce muscle fatigue, soreness and other muscle and physical discomfort.
Top Secret Nutrition ActiveXtreme Includes:
ActiGin a proprietary all-natural compound made with the activephytochemials from the Panax notoginseng and Rosa roxburghii fruit.
Cutting-edge antioxidants: acai berry, pomegranate and resveratrol.
Alpha lipoic acid.
An increased dosage of the B vitamins.
Vitamin A as beta-carotene.