Warning: This product is not currently available at any store.
Click the button above and PricePlow will email you when the first store has it in stock!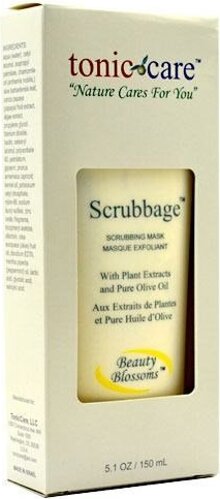 Tonic Care Scrubbage | Now on Sale at
Scrubbage is an organic facial exfoliator made of Dead Sea salts and water, plant extracts, and pure olive oil that gently smooths your skin. Scrubbage contains micro beads to help exfoliate and rejuvenate the skin leaving you with a smooth and radiant complexion. The microbeads help eliminate dead skin cells to renew the skin and create a more polished complexion.Natural Ingredients: The Key to Long-Term Healthy SkinScrubbage contains many nutrient rich ingredients that make it one of the leading exfoliation products on the market today. Below, we have highlighted the key ingredients that make this product so amazing:Salicylic AcidSaliclyic Acid is used to clear and prevent pimples on acne prone skin types. Salicylic acid treats acne by reducing swelling and redness and unplugging blocked skin pores to allow pimples to shrink. Salicylic Acid products also treat skin conditions that involve scarring and overgrowth of skin cells. It helps treat other skin conditions by softening and loosening dry, scaly, or thickened skin so that it falls off or can be removed easily.Dead Sea SaltsDead Sea Salts work to exfoliate the skin by removing dead skin cells. Adding Dead Sea Salt to an exfoliator helps leave the skin soft and rejuvenated.Lactic AcidLactic acid works to diminish fine lines and wrinkles while reducing age spots and improving skin texture. Lactic Acid also stimulates collagen production which helps tighten the skin leaving you with a more youthful appearance. Lactic acid also presents the added benefit as a skin softening agent which makes it an excellent option for sensitive skin types.Glycolic AcidGlycolic Acid helps reduce the appearance of fine lines and wrinkles. It can also even out the skin tone by removing or reducing discolorations and sun spots. It can improve dry thick skin, including scars. It is effective in improving acne, blackheads and whiteheads. Using Glycolic Acid helps remove the top layers of skin which forces the skin to renew itself faster giving us younger looking skin.Peppermint OilPeppermint oil contains menthol which creates a cooling effect while nourishing dull skin. Peppermint oil helps remove excess oil that can clog pores and cause acne and blackheads.Olive OilOlive oil is used as a skin softening agent. After micro beads remove the dead skin, olive oil works to leave the skin soft and refreshed.