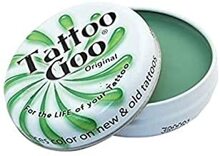 Tattoo Goo Original Tattoo Goo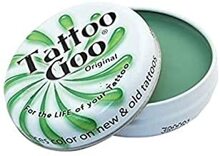 Tattoo Goo Original Tattoo Goo
The Original Tattoo Goo in ointment form is the Natural Choice. Based with eight different natural ingredients, the "Original" is 99% Natural.
How to care for your new tattoo has been a subject of debate in the tattoo community for many years. Tattoo artists have had to recommend a variety of products available from your local drug store. These products were developed to prevent cuts, burns, scrapes and abrasions from getting infected. The majority of these products contain petroleum or lanolin which when applied to a new tattoo can clog skin pores. Tattoo Goo contains no petroleum and no lanolin.
Tattoo Goo has been formulated for the treatment of your new tattoo. Unlike other commercially available products Tattoo Goo actively supports the tattoo community.
Please read all label directions carefully. Consult with your artist before use. Review ingredients for allergies. Discontiune use if any reactions occur.