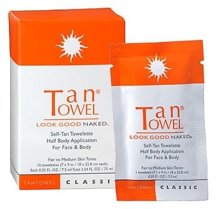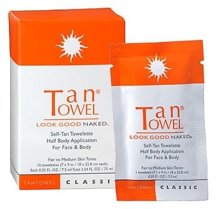 TanTowel
Look Good Naked™

Classic
Self-Tan Towelette
Half Body Application
For Face & Body

Fair to Medium Skin Tones

Each tantowel classic towelette is concentrated with a self-tan forumla to give you a quick and even application with no streaking, mess or fuss. Tantowel classic will produce a uniform, natural looking glow within 2 to 4 hours. For a deeper tan, apply another tantowel after 4 hours. To maintain your tan, reapply as needed or 2 to 3 times a week. For darker result apply more frequently. Light citrus fragrance. Results may vary.
* These statements have not been evaluated by the Food and Drug Administration. This product is not intended to diagnose, treat, cure, or prevent any disease.