Warning: This product is not currently available at any store.
Click the button above and PricePlow will email you when the first store has it in stock!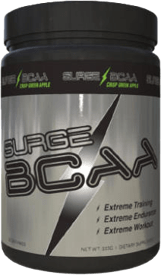 Surge Supplements Surge BCAA
FEED YOU MUSCLES FUEL
PREMIUM 6G INSTANTIZED 2:1:1 BCAA'S
ADDED HICA, BETAINE, AND CARNITINE
IDEAL FOR GROWTH, RECOVERY AND FUEL
BEST TESTING BCAA PRODUCT AVAILABLE
PREVENT CATBOLISM
Whether you're just starting to get into exercise or getting ready to compete in a competition, your muscles are in need of the right nutrition for ideal recovery. Exercise can be hard on muscles, especially if it's not paired with a proper nutrition and supplement regimen. Luckily, Surge BCAA's has you covered. With an ideally formulated 2:1:1 ratio of 6 grams instantized BCAA's plus HICA and more, Surge BCAA's fully nourishes hard working muscle to improve recovery time, reduce muscle tear down, and promote muscle growth.
Build and preserve muscle the way nature intended. Branched-chain amino acids are essential to prolong endurance capacity during exercise,[1] increase mTOR activation,[2] and accelerate protein synthesis for lightening fast recovery and muscle growth.[3]Surge BCAA's orchestrates optimal muscle growth and recovery so you can focus on your performance without having to worry about catabolism.
Surge BCAA's takes it to the next level with added Betaine for strength and anabolism,[4] L-Carnitine for fat oxidation,[5] and HICA for powerful protection against muscle breakdown and added recovery speed.[6] Plus, Surge BCAA's is without a doubt the best tasting BCAA supplement on the market – all without any sugar or calories!
Simply mix Surge BCAA's with water or your favorite beverage for a delicious treat and ideal nutrition for hard-working muscles in need of fuel, recovery, repair, and essential growth building blocks.
References [+]
References [-]
[1] Mittleman KD, et al. Branched-Chain Amino Acids Prolong Exercise During Heat Stress in Men and Women. Medicine and Science in Sports and Exercise. 30:1. (1998): 83-91.
[2] Karlsson HK, et al. Branched-Chain Amino Acids Increase p70S6k Phosphorylation in Human Skeletal Muscle After Resistance Exercise. American Journal of Physiology, Endocrinology, and Metabolism. 287:1. (2003): E1-E7.
[3] Blomstrand E, et al. Branched-Chain Amino Acids Activate Key Enzymes in Protein Synthesis after Physical Exercise. The Journal of Nutrition. 136:1. (2006): 269-273.
[4] Lee EC, et al. Ergogenic Effects of Betaine Supplementation on Strength and Power Performance. Journal of the International Society of Sports Nutrition. 7:27. (2010): 1-7.
[5] Lorenz H, Wutzke KD. The Effect of L-Carnitine on Fat Oxidation, Protein Turnover, and Body Composition in Slightly Overweight Subjects. Metabolism. 53:8. (2004): 1002-1006.
[6] Lang CH, et al. Chronic alpha-Hydroxyisocaproic Acid Treatment Improves Muscle Recovery After Immobilization-Induced Atrophy. American Journal of Physiology – Endocrinology and Metabolism. 305:3. (2013): 416-428.
* RESULTS MAY VARY