Warning: This product is not currently available at any store.
Click the button above and PricePlow will email you when the first store has it in stock!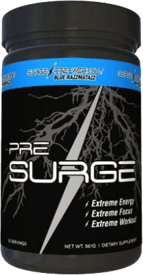 Surge Supplements Pre Surge
UNPRECEDENTED INNOVATION
UNPRECEDENTED SURGE OF POWER AND STRENGTH
EXTREME FOCUS AND ENERGY DURING EXERCISE
UNSTOPPABLE ENDURANCE AT HIGH INTENSITIES
INCREDIBLE BLOOD FLOW, PUMPS AND VASCULARITY
EXTREME ENERGY – EXTREME FOCUS
You demand a lot of your body as you push yourself to your limits – now it's time to demand more from your pre-workout. A high-quality, effectively dosed pre-workout can undoubtedly revolutionize your workouts and exercise performance. It's essential that you don't waste your money and settle for anything less than the very best! Pre-Surge is an extreme muscle growth primer, vascularity enhancer, and workout intensifier that contains the largest number of high potency ingredients per scoop compared to any other pre-workout on the shelves today. Your search for the very best pre-workout stops right here.
Extreme pumps, energy, and endurance – that's the foundation on which Pre-Surge is based. It is formulated with B-Vitamins, electrolytes, and 4 powerful matrices – Surge Anabolic Catalyst, Surge Max Pump Multiplex, Surge Synthesized Mass Builder, and Surge Energy Compound. Pre-Surge addresses the four main pathways behind unbelievable exercise performance to take you to the next level and beyond.
Pre-Surge contains powerful doses of effective compounds such as Arginine AKG, which supports pumps and reduces the oxygen cost of exercise.[1] Beta-alanine wards of lactic acid build-up[2], creatine dramatically increases ATP production[3], betaine takes strength to a whole new level[4], and leucine ignites unhindered muscle growth[5] – and that's just the beginning!
Pre-Surge is based off the latest advancements in pre-workout nutrient timing and utilizes some of the most advanced patented ingredients available. The results you achieve with Pre-Surge will exceed your expectations. It's time to get serious about your performance.
References [+]
References [-]
[1] Bailey SJ, et al. Dietary Nitrate Supplementation Reduces the O2 Cost of Low-Intensity Exercise and Enhances Tolerance to High-Intensity Exercise in Humans. Journal of Applied Physiology. 107:4. (2009): 1144-1155.
[2] Suzuki Y, et al. High Level of Skeletal Muscle Carnosine Contributes to the Latter Half of Exercise Performance During 30-s Maximal Cycle Ergometer Sprinting. The Japanese Journal of Physiology. 52:2. (2002): 199-205.
[3] Balsom PD, et al. Creatine Supplementation and Dynamic High-Intensity Intermittent Exercise. Scandinavian Journal of Medicine and Science in Sports. 3:3. (1993): 143-149.
[4] Lee EC, et al. Ergogenic Effects of Betaine Supplementation on Strength and Power Performance. Journal of the International Society of Sports Nutrition. 7:27. (2010): 1-7.
[5] Greiwe JS, et al. Leucine and Insulin Activate p70S6 Kinase Through Different Pathways in Human Skeletal Muscle. American Journal of Physiology, Endocrinology, and Metabolism. 281:3. (2001): 466-471.
* RESULTS MAY VARY