Warning: This product is not currently available at any store.
Click the button above and PricePlow will email you when the first store has it in stock!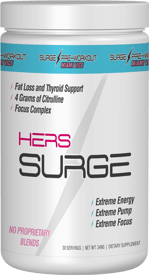 Surge Supplements Extreme Hers
THE PRE-WORKOUT FOR WOMEN
EXTREME ENERGY
EXTREME PUMP
EXTREME FOCUS
FAT LOSS AND FOCUS SUPPORT
ENERGY, FOCUS AND ENDURANCE
Workouts can be hard. That's the point. If you don't work out at a rate that's kind of uncomfortable, you'll never see the gains that will make that same workout easier. Since you need to push yourself when you work out, you'll need a supplement to push you over the top. Surge Supplements Extreme Hers is the pre-workout for women looking to push themselves.
Surge Supplements Extreme Hers is comprised of two blends. The first is Hers Surge Complex and the other is the Focus Complex. The Hers Surge Complex is formulated to to help aid women improve their workouts with an impressive blend of ingredients. The blend contains beta-alanine which combats fatigue by suppressing muscle carnosine.[1] It also contains N-Acetyl-L-Cysteine which has been shown to reduce oxidative stress in the lungs.[2] Another ingredient in the Hers Surge Complex is Citrulline Malate which has been shown to decrease fatigue[3] and increase nitric oxide.[4]
The Focus Complex is formulated to give you energy and focus. Caffeine is a well known ingredient that gives you energy.[5] L-Tyrosine has been shown to improve improve cognition while under stress and well as act as a general anti-stressor.[6]
If you want an extreme supplement with high quality ingredients. Look no further than Surge Supplements Extreme Hers. The ingredients in Extreme Hers have been shown to help aid women by giving them energy, focus and endurance. Give Surge Supplements Extreme Hers a try and see if you don't see extreme improvements.
References [+]
References [-]
[1] Sale, Craig. Saunders, Bryan. Harris, Roger C. Effect of beta-alanine supplementation on muscle carnosine concentrations and exercise performance. Amino Acids. 2010 39:321-33. Accessed 2016.
[2] F, De Benedetto. Dragani, Aceto A. A, Spacone. S, Formisano. R, Pela. CF, Donner. CM, Sanquinetti. Long-term oral n-acetylcysteine reduces exhaled hydrogen peroxide in stable COPD. Pulmonary Pharmacology & Therapeutics. 2005.
[3] Bendahan, D. Mattei, JP. Ghattas, B. Confort-Gouny, S. Le Guern, ME. Cozzone PJ. Citrulline/malate promotes aerobic energy production in human exercising muscle. British Journal of Sports Medicine. 2002.
[4] Sureda, A. Córdova, A. Ferrer, MD. Pérez, G. Tur, JA. Pons, A. L-citrulline-malate influence over branched chain amino acid utilization during exercise. European Journal of Applied Physiology. 2010.
[5] Peacock, Amy. Martin, Frances Heritage. Carr, Andrea. Energy drink ingredients. Contribution of caffeine and taurine to performance outcomes. Appetite. Volume 64. 2013.
[6] L-Tyrosine. Examine.com. Accessed 2016.
* RESULTS MAY VARY