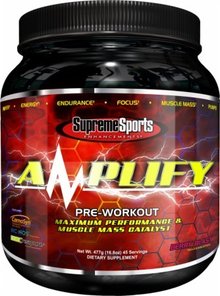 Supreme Sports Enhancements Amplify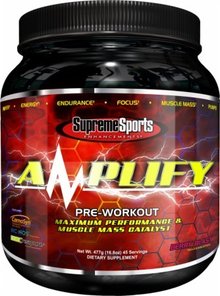 Supreme Sports Enhancements Amplify
THE
NEXT GENERATION

OF

PRE-WORKOUT

SUPPLEMENTATION HAS ARRIVED...
Lift HEAVIER, LONGER, and with GREATER INTENSITY than ever before!*
NO PROPRIETARY BLENDS
Increase power, performance, and pumps RAPIDLY*
FULL DOSAGES of all listed ingredients
Contains multiple PATENTED ingredients; CreaPure, Carnosyn, and RC-NOS
Utilizes numerous biochemical pathways in order to enhance power, performance, and lean muscle mass*
THE FIVE COMPONENTS OF THE ULTIMATE PRE-WORKOUT
Helps increase in muscular power and strength.*
Rapidly promotes energy and focus.*
Intense and long-lasting muscle PUMPS (increased blood flow in muscle tissue).*
Delayed muscular and mental fatigue.*
Promotes/initiates lean muscle mass gains.*
NEXT GENERATION PRE-WORKOUT SUPPLEMENTATION!
AMPLIFY™ is truly--without exaggeration, our ULTIMATE Pre-Workout supplement. There is no other product on the market that contains such a fully comprehensive formula, with such carefully selected high quality ingredients, used in their PROPER AND TESTED DOSAGES. This is a BOLD claim indeed, but one that we believe we can back-up nonetheless. Supported by the science and verified by real world results, AMPLIFY is the only Pre-Workout supplement you will ever use again!
AMPLIFY delivers powerful muscle-building and performance supporting effects with the very first dosage, enabling you to lift heavier, longer, and with greater intensity than ever before!* Experience skin-tearing muscle-PUMPS, extreme focus and energy, and support increases in power, strength, and overall performance.* AMPLIFY will give you the mental and physical fuel needed to have the best workout you've ever had—each and every time you work out!
Each and every ingredient contained in this fully comprehensive and rigorously studied formula is used in its optimal dosage; something that other supplement companies simply cannot say. AMPLIFY contains NO PROPRIETARY BLENDS! Unlike other formulas, you'll never need more than 1-2 scoops in order to experience the full effects. Stop wasting your money on under-dosed, "kitchen-sink-sprinkle", stimulant-based Pre-Workout blends! AMPLIFY your workouts; AMPLIFY your results!