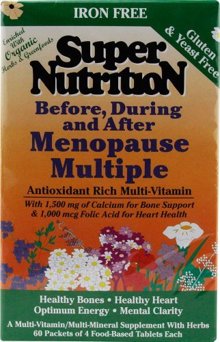 Super Nutrition Before, During and After Menopause Multiple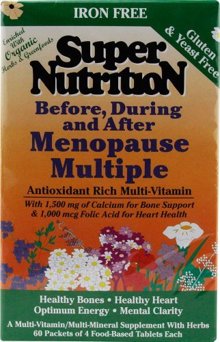 Super Nutrition Before, During and After Menopause Multiple
Before, During and After Menopause Multiple Description from Super Nutrition
60 Packets. 4 Tabs Each.

Vitamins are essential for life. It takes only a small amount of vitamins to survive. It takes lots more to thrive. There are over 25,000 studies in the National Library of Medicine on vitamin potencies. Together they show that vitamin potency makes the difference.

Before, During and After
-Feel great before, during and after menopause. Our blend of nutrients and scientifically proven potencies reduces the need to buy additional vitamins or minerals or take extra tablets.
-Bone Health. Contains 1,500 mg of Calcium, 4,000 IU of Vitamin D, 600 mg of Magnesium, 1500 mg of Vitamin C, and full potencies of eight other bone-building nutrients, all to help support bone strength throughout life.
-Heart health and mental clarity. Rich in Vitamins C, E, B6, B12 and Folic Acid, all at potencies shown to be effective in supporting heart health while helping to improve mental clarity and memory. You get 800 IU of Vitamin E, 1000 mcg of Folic Acid and 250 mcg of Selenium for heart health, plus 250 mcg of Chromium.
-Optimum energy. Our orthomolecular balance and optimal potencies of nutrients are specially designed to provide you with extra energy, strength and stamina, without herbal stimulants.
Supplement Facts
Supplement Facts
Serving Size: 2 Packets
Servings Per Container: 30
Ingredient
Amount
% Daily Value**
Vitamin A (Palmitate)
5000IU
100
Vitamin C (Ascorbic Acid)
1500mg
2500
Vitamin D (Vitamin D3)
4000IU
1000
Vitamin E (Natural Vitamin E Succinate)
800IU
2667
Vitamin K1 (Phytonadione)
80mcg
100
Vitamin K2 (MK7)
45mcg
56
Thiamine (Vitamin B1)
95mg
6333
Riboflavin (Vitamin B2)
74mg
4353
Vitamin B3 (Niacin - Two-Stage, Low Flush)
80mg
400
Vitamin B3 (Niacinamide)
60mg
300
Pyridoxine (Vitamin B6)
175mg
8750
Folic Acid
1000mcg
250
Cyanocobalamin (Vitamin B12)
1000mcg
16667
Biotin (d-Biotin)
600mcg
200
Pantothenic Acid (Calcium Pantothenate)
175mg
1750
Calcium (Carbonate & Citrate)
1500mg
150
Iron (Ferrous Carbonyl)
18mg
100
Iodine (from Kelp)
225mcg
150
Magnesium (Oxide & Glycinate)
600mg
150
Zinc (Oxide & Citrate)
30mg
200
Selenium (Sodium Selenite)
250mcg
357
Copper (Glycinate)
2.5mg
125
Manganese (Sulfate & Citrate)
10mg
500
Chromium (Polynicotinate & Picolinate)
250mcg
208
Molybdenum (Trioxide)
150mcg
200
Potassium (Chloride & Succinate)
99mg
3
** Percent Daily Value is based on a 2000 calorie diet. Your daily values may be higher or lower depending on your calorie needs.
† Daily Value not established.


Other Ingredients
Supplement Facts
Serving Size: 2 Packets
Servings Per Container: 30
Ingredient
Amount
% Daily Value**
Beta Carotene
150IU
Betaine (HCI)
100mg
Bioflavonoids (from Citrus)
4mg
Boron (from Krebs Cycle Boron)
3mg
Choline (Bitartrate)
100mg
DHA (Docosahexaenoic Acid)
100mg
Glutamic Acid (HCI)
40mg
Hesperidin (from Citrus)
20mg
Inositol
25mg
PABA (Para Amino Benzoic Acid)
66mg
Rutin
20mg
Vit. E Mixed Tocopherols (Gamma)
7mg
-(Alpha, Beta, Delta)
4mg
Vitex (5:1 Extract)
100mg
** Percent Daily Value is based on a 2000 calorie diet. Your daily values may be higher or lower depending on your calorie needs.
† Daily Value not established.


Plant cellulose coating contains citrus & vanilla flavoring.


Ingredients:
Other Ingredients: Microcrystalline Cellulose, Stearic Acid, Calcium Silicate, Cab-O-Sil.

Manufacturer's Directions
Take 1 packet after breakfast and 1 packet after lunch or dinner.

Manufacturer's Disclaimer
Accidental overdose of iron-containing products is a leading cause of fatal poisoning in children under 6. Keep this product out of reach of children. In case of accidental overdose, call a doctor or poison control center immediately.




Be The First To Review This Product







Similar Products

Body First Vitamin D3 - High Potency (10,000IU) 120 sgels

Our Price $7.99

BodyStrong Body Surge - Super Concentrated Pre-Workout Fruit Punch 225 grams

Our Price $17.99

Body First Vitamin K-2 (100mcg) 100 vcaps

Our Price $7.19