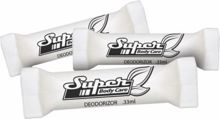 Super Body Care Gym Bag Deodorizers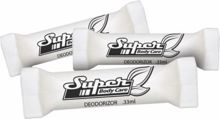 Super Body Care Gym Bag Deodorizers
Additional Images:
Click to Enlarge
The Gym Bag Deodorizor air fresheners pack a big punch of pure Peppermint, Rosemary, Tea Tree, Lavender, and Bergamot. Crush only ONCE in the middle to activate and place this portable air freshener in your car, gym bag, dresser drawer, locker, closet, even your vacuum; any small space and enjoy the fresh and pure scents for up to 2 weeks depending on exposure to the sun, heat, and air. Discard after use.
Each pack comes with 16 deodorizors.
Safety Warnings: Crush ONCE and only ONCE. Although the protective material is thick and tolerant of some crushing, do not repeatedly squish, crush, or apply pressure. Do not place near food. Do not rub on skin. Do not consume. Keep away from kids and pets. Throw away promptly after use. Do not hold directly to your nose.