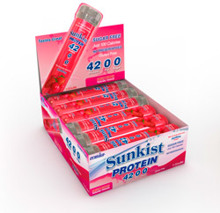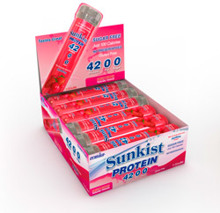 Naturally Flavored.
Sugar Free.
Just 100 Calories.
Gluten Free.
Tastes Great.
No Preservatives.
25g Protein.
Sunkist Protein is a high quality liquid protein
conveniently packaged in a ready-to-drink format. At 25 grams of protein with zero fat and zero sugar. Sunkist Protein is a delightful alternative to traditional protein drinks.
Supplement Facts:
Serving Size: 2.9 fl oz
Servings Per Container: 1
Amount Per Serving:
Calories 100
Calories from Fat 0
Total Fat 0 g 0%
Saturated Fat 0 g 0%
Cholesterol 0 g 0%
Sodium 64 mg 3%
Potassium 31 mg 1%
Total Carbohydrate 0 g 0%
Dietary Fiber 0 g 0%
Sugars 0 g
Protein 25 g
Vitamin C 60 mg 100%
Biotin 30 mcg 10%
Niacin 2 mg 10%
Pantothenic Acid 1 mg 10%
Riboflavin 0 mg 10%
Thiamin 0 mg 10%
Folic Acid 40 mcg 10%
Pyridoxine 0 mg 10%
Trans Fat 0 g 0%
Cobalamin 1 mcg 10%
Ingredients: Pure deionized water, Actinase [patent pending blend of enzymatically hydrolyzed (predigested) collagenic protein isolate, whey protein isolate (milk) and casein protein isolate (milk)], malic acid, Vitamins [ascorbic acid (C), niacin (B3), pantothenic acid (B5), pyridoxine (B6), riboflavin (B2), thiamin (B1), folic acid, biotin and cobalamin (B12)]. Natural flavors, Acesulfame-potassium, Sucralose, red 40, blue 1.
Note: Manufacturers continually change product specifications. While we try our best to keep product descriptions up to date, they do not necessarily reflect the latest information available from the manufacturer. We are not responsible for incorrect or outdated product descriptions and/or images.
These statements have not been evaluated by the Food and Drug Administration. This product is not intended to diagnose, treat, cure, or prevent any disease.