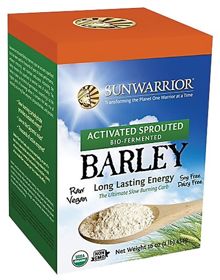 Sun Warrior Activated Barley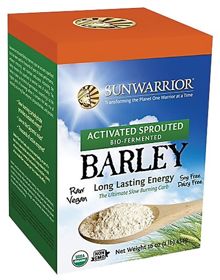 Sun Warrior Activated Barley
Before we actually get into the details of Activated Barley, we need to look briefly at barley in general.
Barley has high concentrations of tocotrienols, antioxidant compounds that work to suppress the activity of the first rate-limiting enzyme (HMG-CoA Reductase) in the liver.* Barley is one of the highest known sources of beta-glucans, carbohydrates (there's that word again) that have remarkable immune boosting properties.*
Historically, barley has been used for thousands of years. The Roman army marched on it. It was the primary staple of their diet. They picked up that trick from the gladiators who trained on it and were known as "barley eaters." (So much for meat being the food of choice for macho men.)
Activated Barley
The problem with barley is that it's extremely gelatinous. All attempts to dry it and package it for commercial distribution failed until a company in Sweden figured out a way to use low-temperature steam (produced in a partial vacuum) to take the barley just up to the point of sprouting -- before it turns gelatinous, but after the point where all the proteins and carbohydrates have been converted, and at a temperature low enough so that no enzymes are damaged.
This turns out to be a remarkably interesting point for food. It's like the food is placed in a state of suspended animation at the point where all of the energy of the grain has been marshaled to sprout the pearl -- and not yet expended in the act of sprouting.
The Properties of Activated Barley
Like regular barley, it ranks incredibly low on the glycemic index.
It has all of the nutritional value of barley -- high levels of tocotrienols and beta glucans.
It contains 1,000s of active enzymes.
It is an ultra-long-chain carbohydrate that takes up to 4 hours to break down in the digestive tract -- thus providing a slow, sustained release of energy and insulin.*
Because the release is so slow, it actually lowers the body's insulin response.*