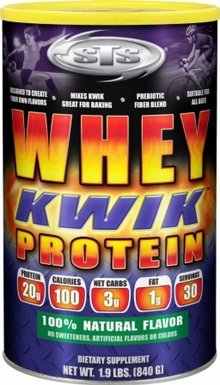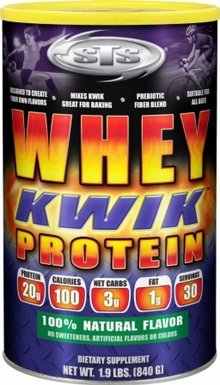 Are you tired of trying different flavors of protein to see which one tastes better? Do you get tired of the same old flavor day after day? Are you looking for a protein that has NO artificial sweeteners or flavors? Look no further, because Whey Kwik™ is Whey beyond Natural!
Our 100% natural flavor contains no sweeteners, artificial flavors or colors. Whey Kwik™ is a blend of whey protein concentrate, whey protein isolate and our prebiotic fiber blend to help support probiotic bacteria in the digestive tract which may help increase the absorption of nutrients.* It is 100% clean and healthy, simple and not over engineered! Whey Kwik™ is one of the purest high quality whey proteins available, containing 20 grams of protein per serving with No Artificial Anything!
Whey Kwik™ was designed to be blended with your favorite flavored drink or baked in your favorite food. It can be blended with fruit, vegetables or a beverage of choice. It can also be added to pancakes, muffins, oatmeal, cereals and other baking mixes. Whey Kwik™ is the quick choice when you want to customize your own flavor and add protein into your diet!