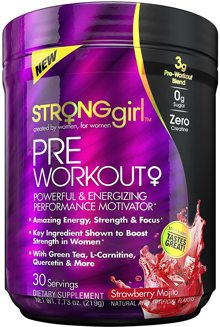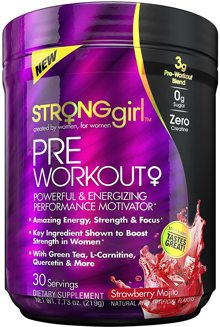 Ingredients Tailored For Women
PRE-WORKOUT
POWERFUL & ENERGIZING PERFORMANCE MOTIVATOR*
>

Amazing Energy, Strength & Focus*

>

Key Ingredient Shown to Boost Strength in Women*

>

With Green Tea, L-Carnitine, Quercetin & More!
the stronggirl™ pre-workout advantage
StrongGirl Pre-Workout is designed to help power you through your toughest workouts. Providing explosive energy and intensity, StrongGirl Pre-Workout will help you build more strength and enhance your performance. It is formulated with ingredients such as CarnoSyn beta-alanine, quercetin, caffeine, and L-carnitine L-tartrate, along with green tea extract – which was recently studied exclusively on women for its impact on strength. Plus it mixes instantly and tastes great! Choose StrongGirl Pre-Workout to get more out of your workouts!*
Formulated with Female Friendly Ingredients
Developed with a Scientifically Researched Key Ingredient*
Free of Banned Substances
Free of Harmful Impurities
Free of Undeclared Ingredients
HOW TO TAKE STRONGGIRL PRE-WORKOUT
To assess your tolerance, follow the chart provided. Once your tolerance has been assessed, take 2 servings (2 scoops) with 6 to 12 oz. of water and consume 30 to 45 minutes before your workout.
> Days 1 & Day 2 – 1 Scoop once a day before your workout.
> Days 3 & Beyond – 2 Scoops once a day.
Do not exceed 2 scoops in a 24-hour period. Drink 10 glasses of water daily for general good health. Read the entire label before use and follow directions provided.