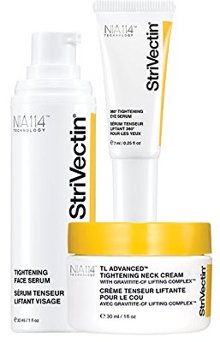 StriVectin Tightening Trio for Lift Kit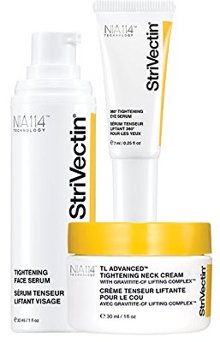 StriVectin Tightening Trio for Lift Kit
Tightening Trio for Lift

Create powerful lift with these clinically-proven formulas to tighten, lift and redefine youthful contours to face, neck, and eye area.

The future of anti-aging.
Whether it's wrinkles, loss of firmness, skin damage, age spots or a complexion in need of brightening, StriVectin delivers. Only StriVectin formulas have our patented, proven NIA-114TM molecule (Niacin), discovered in skin cancer research, that powers up skin to help repair damage and fight off all visible signs of aging for a healthy, ageless appearance.

How to achieve lift and youthful contours:
First, on clean skin, apply Tightening Face Serum all over face. Follow with Tightening Neck Cream on throat and neck. Massage entire eye area with 360o Tightening Eye Serum, including upper lid. Use daily, morning and night.

Tightening Face Serum 30 ml/1 fl oz Paraben-Free, non-ComedogeniC
Tightening neck Cream 30 ml/1 fl oz Paraben-Free, non-ComedogeniC
360o Tightening eye Serum 7 ml/0.25 fl oz Paraben-Free, non-ComedogeniC
3 steps for lifted, youthful contours:
Tightening Face Serum helps facial skin look firmer, smoother, healthier and more lifted.
Tightening Neck Cream returns youthful contours as neck and jaw line look more defined, lifted and youthful.
360o Tightening Eye Serum visibly lifts the eye area, eyelids regain their youthful contour and under-eye puffiness appears minimized.