Warning: This product is not currently available at any store.
Click the button above and PricePlow will email you when the first store has it in stock!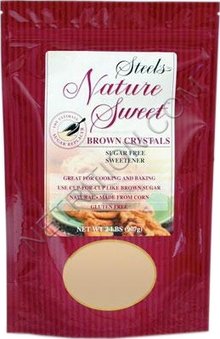 Steel's Gourmet Nature Sweet Sugar Substitute
Steel's Gourmet sugar substitutes are made with Nature Sweet (Maltitol).Nature Sweet is a unique, natural sugar free sweetener made from corn.It contains no artificial ingredients and can be used cup for cup like sugar for superiorbaking and cooking results. Nature Sweet contains about half the calories of sugar, issuitable for low carbohydrate and diabetic diets, and has no aftertaste. Try it in allyour favorite recipes.
Maltitol is a member of a family of bulk sweeteners known as polyols or sugar alcohols.It has a pleasant sweet taste--remarkably similar to sucrose. Maltitol is about 90% assweet as sugar, non-cariogenic, and significantly reduced in calories. Maltitol isespecially useful in the production of sweets, including sugarless hard candies, chewing gum,chocolates, baked goods and ice cream.