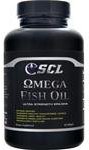 StarChem Labs Omega Fish Oil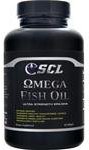 StarChem Labs Omega Fish Oil
Omega Fish Oil has become synonymous with cardiovascular integrity,
and is supported by mountains of substantiated research. A large percentage of these studies suggest that omega-3 plays a key role in maintaining healthy cholesterol levels, normalizing blood pressure range and supporting a healthy heart beat.

It also serves as a natural blood thinner capable of preventing platelet aggregation;
a condition where coronary blood flow becomes sticky and prone to clotting. Finally, fish oil has been shown to help boost HDL (good) cholesterol while lowering triglycerides levels.

Conclusive research shows that consumption of EPA and DHA
omega-3 fatty acids may help maintain a healthy heart. Because EFA´s are found in high concentrations in the brain, they are essential for nerve conduction and brain function.
Enteric Coated
Maintains the health and structure for connective tissue and joints
Supports Healthy Cholesterol levels
Helps support mood & brain function
Molecular distilled
Supplement Facts:
Serving Size 1 Softgel
Servings Per Container 60
Amount Per Serving
Calories 15 < 2%
Calories from Fat 15
Total Fat 1.5 g 2%
Polyunsaturated Fat 1 g
Cholesterol < 5 mg < 1%
Fish Oil 1400 mg
Typically providing 980 total Omega-3 Fatty acids, including 647 mg of EPA (Eicosapentaenoic acid) and 253 mg of DHA (Docosahexanoic acid)
Ingredients: Gelatin, Vegetable Glycerin, Food Glaze. Contains <2% of enteric coating (sodium alginate and Stearic acid), ethylcellulose, medium chain triglycerides, mixed natural tocopherols, Polysorbate 80, and soybean oil.
Directions: As a dietary supplement, take 1-2 softgels daily with meals.
Warnings: Always consult with your healthcare provider prior to use especially if you have or suspect a medical condition, are taking prescription drugs, or are pregnant or lactating. Also check with your healthcare provider prior to use if you are allergic to fish. Keep out of the reach of children. Allergen Warning: Contains fish (anchovy, mackerel, sardine) and soybeans.
Note: Manufacturers continually change product specifications. While we try our best to keep product descriptions up to date, they do not necessarily reflect the latest information available from the manufacturer. We are not responsible for incorrect or outdated product descriptions and/or images.

These statements have not been evaluated by the Food and Drug Administration. This product is not intended to diagnose, treat, cure, or prevent any disease.