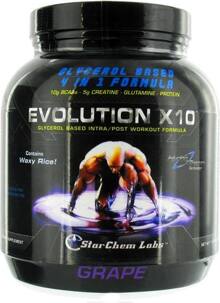 StarChem Labs Evolution X10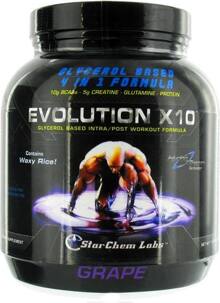 StarChem Labs Evolution X10
The Future Of Recovery Has Arrived!
Evolution X10 is the first and only true advancement in post workout recovery to be released in years! Now for the first time in history you can feed your muscles the precise anabolic nutrients needed for total repair and recovery from high intensity workouts. Evolution X10 was scientifically formulated to maximize muscle strength, power output, and protein synthesis, while simultaneously reducing your recovery times and muscle protein breakdown. Never before has so much technology been crammed into one complete formula.
StarChem Labs Evolution X10 is the only recovery formula in the world to contain HydroTrans- the most advanced nutrient delivery breakthrough this decade! HydroTrans patent-pending formula was developed and tested by top scientists in exercise science and sports nutrition and was designed to be the most effective hyper-hydrating transport compound available. Most post-workout recovery formulas supply protein, carbs, a few vitamins and that's about it. Evolution X10 goes light years beyond these ancient formulas. For starters, Evolution X10 gives you the precise ratios of fast acting hydrolyzed proteins used by Olympic athletes to speed recovery and enhance post-workout muscle repair. Evolution X10 then adds a whopping 10 grams of additional BCAA's.
Most protein powders boast about their BCAA amounts but they use the amount in the protein to show higher numbers. Evolution X10 adds extra BCAA's to our already potent hydrolysed protein blend. To further enhance this powerful formula we've added our exclusive MagnaLoad Creatine Matrix, a special combination of creatine monohydrate, Creatine MagnaPower (a patented creatine magnesium chelate that utilizes a unique active transport system to improve absorption and efficacy) and vein swelling glycerol. The icing on the cake is an anabolic nutrient matrix that no other product on the market has - a research proven blend of Magnesium Glycyl Glutamine and Chromium Chelavite. This patented anabolic matrix was specifically designed to build and sustain muscle mass, and only Evolution X10 has it!
Evolution X10 is truly the future of recovery!

Supplement Facts
Serving Size: 1 Scoop (28g)
Servings Per Container: 20
Amount Per Serving:
Calories - 36
Calories From Fat - 0
Total Fat - 0g 0%
Cholesterol - 0mg 0%
Total Carbohydrate - 3g 1%
Dietary Fiber - 0mg 0%
Sugars - 0mg
Protein - 6g 12%
Vitamin B6(as Pyridoxal 5' Phosphate) - 10mg 500%
Magnesium(as Creatine MagnaPower Creatine Magnesium Chelate, Magnesium Glycyl Glutamine Chelate) - 202.5mg 50%
Chromium(as Chelavite Chromium Nicotinate-Glycinate Chelate) - 20mcg 16%
AminoBolic Hyperhydration Complex - 24.5g
[Replenish BCAA Matrix ( L-Leucine, L-Valine, L- Isoleucine), MagnaLoad Creatine Matrix ( Creatine Monohydrate, Creatine MagnaPower Glycerol), Whey ProteinHydrolysate, Whey Protein Isolate, Casein Hydrolysate, Magnesium Glycyle Glutamine, Chromium, Chelavite]
Other Ingredients:
Citric Acid, Silica, Natural Flavor, Sucralose, Acesulfame Potassium

Directions
As a dietary supplement, mix 1 scoop in 20-30 ounces of cold water and shake well. Begin drinking 30 minutes into exercise, sipping 4-5 ounces every 15 minutes. Endurance athletes and those performing high volume resistance training can also mix Evolution X10 with juice to increase the carbohydrate content and more quickly regenerate muscle glycogen stores. For best results, use Evolution X10 continuously for at least 30-days in conjunction with a healthy diet and intense exercise programs. Individual results may vary.

Warnings
Keep out of the reach of children. not intended for use by pregnant or lactating women. Store in a cool, dry place.


* No claims found on this web page or in print have been evaluated by the Food and Drug Administration. This product is not intended to diagnose, treat, cure, or prevent any disease. No claim or opinion about weight loss, bodybuilding or general health on this web page is intended to be, nor should be construed to be, medical advice. Please consult with a healthcare professional before starting any weight loss diet or exercise program.