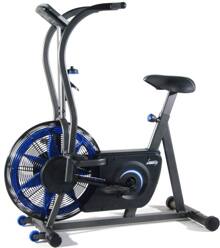 Stamina Products Stamina Airgometer Exercise Bike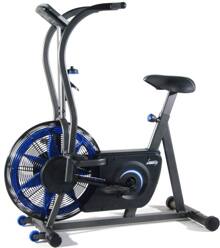 Stamina Products Stamina Airgometer Exercise Bike
Stamina Products - Stamina Airgometer Exercise Bike
Stamina Products Stamina Airgometer Exercise Bike is designed to offer quiet, smooth and reliable performance. Sturdy and notably comfortable, the Airgometer Exercise Bike is perfect for fitness fanatics who demand seriously intense workouts. The air resistance engineering proves to be simple and easy to use, making it an equally great option for less experienced users who want to conveniently improve cardiovascular fitness and strength at home.
Stamina Airgometer Exercise Bike Features:
Unlimited levels of smooth, air resistance
Oversized, weighted, textured pedals protect feet
Comfortable stationary foot rests (not just a steel bar) that support your feet during upper-body-only work
Dual-Action handlebars add more cardio intensity, tone arms, chest, shoulders, and back (upper and lower body)
InTouch Fitness Monitor with large, easy-to-read LCD display tracks time, distance, speed, and calories burned; set to Scan and track all readouts with the display changing every four seconds
Wider, cushioned seat adjusts to put you in proper cycling position
10 seat height adjustments
Wheels for easy portability
Leveling stabilizer caps
Easy mounting & dismounting
Sturdy steel housing around fan
High-density foam hand grips & slip resistant pedals
Proven Path
As professional trainers often attest, stationary cycling can improve your cardiovascular fitness and increase your metabolism for more efficient calorie and fat burning. The Airgometer Exercise Bike adds to those proven benefits by letting you target your entire body. Pedaling with your feet strengthens your legs, thighs, hips and calves while the dual action handlebars work your arms, shoulders and chest. By working both your upper and lower body simultaneously, the Airgometer Exercise Bike increases the intensity, burning additional calories and fat.
Durable Comfort
The Airgometer Exercise Bike is constructed to last, yet Stamina engineers have made no sacrifices on the comfort elements. The heavy-duty oval steel frame and sturdy steel housing around the resistance fan protect the integrity of the bike, while a wider, cushioned seat makes the ride more enjoyable. The high-density foam hand grips and slip resistant pedals lend to both comfort and performance. Finally, the InTouch Fitness Monitor displays your progress - time, distance, speed, and calories burned - to keep you fully motivated.
About Stamina Products
Who They Are
Stamina customers get cutting edge innovation and quality equipment with an affordable price tag. Stamina Products Inc. was founded in 1987. From the beginning, their focus has been to supply quality and value to the fitness and leisure markets. Over the years, Stamina has developed a broad distribution base, including mass merchants, sporting goods dealers, catalogs, internet retailers, and TV shopping networks. In addition, their products are available all over the world through their extensive international placements. Stamina was one of the first to develop infomercial products with the introduction of the American Gladiator Home Gym. In 1991, Stamina Products Inc. was listed on the Inc. 500 list as one of the fastest growing companies in the United States.
Stamina has showcased hundreds of new products, designed primarily by their product development team. They have also introduced infomercial products, including the AeroPilates Performer, InStride Walker, the Body Dome, and the GYROTONIC Transformer. In addition to the Stamina brand, you have seen their products under brands such as Body by Jake, Suzanne Somers, Tony Little, Cosmopolitan, Brenda DyGraf, Denise Austin and BodyShaping.
Stamina was the first company to bring affordable Pilates reformers to the mass market for home use. Stamina's AeroPilates reformers are the only true Pilates reformers that provide low-impact cardiovascular training plus the total body flexibility, strength training, sculpting and toning that Pilates is famous for.
Their mission is clear and straightforward: Out perform the competition through the development of a successful team of partners while striving to maintain effective communication, consistency, superior service, and active marketing programs. Stamina Products Inc. will continue to pursue perfection through the design excellence of their home fitness products. At Stamina, they truly are dedicated to building a healthier stronger you. With your body in mind.