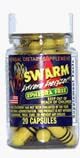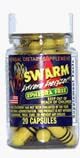 Description
Improve performance. Increase energy. Enhance concentration. Sugar Free.
Item Name: Yellow Jacket Extreme Energy Shot
Product Line: Stacker 2
Extended Size: 10 - 1.7 oz bottles
Brand: NVE Pharmaceuticals
---
Warnings
Contains about as much caffeine as a cup of brewed coffee. Limit or avoid products containing caffeine to avoid jitters sleeplessness and rapid heartbeat. 6 hour power contains niacin (as Niacinamide) so some people may experience a flush feeling, hot sensation or redness of skin that lasts for a few minutes. Not for use by children, pregnant women or individuals sensitive to caffeine. DO not consume more than 1 shot every 6 hours. No refrigeration necessary. Discard unused shot after 3 days. Phenylketonurics: Contains Phenylalanine. Not recommended for minors. Keep out of reach of children.