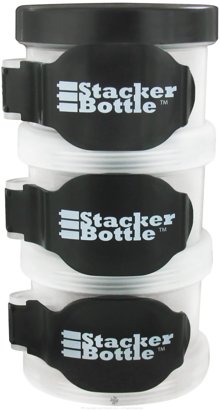 Stacker Bottle Stacker Bottle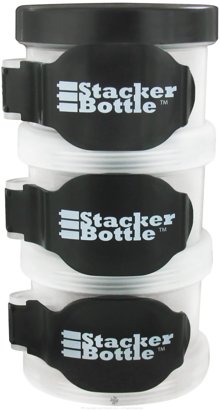 Stacker Bottle Stacker Bottle
How Will You Use Your Stacker Bottle?
Stacker Bottle is the ultimate device for carrying, storing, and dispensing powders, pills, snacks and much more! An entire supplement stack fits in just one bottle!
1 Stacker Bottle Provides:
3 Individual Cups
3 Side Latches for Easy Pouring
2 Trays with Pill Separators
1 Tray Without Separators
And 1 Top Lid
Unlimited Stackability

Each Stacker Bottle comes with 3 stacked cups. But you don't have to stop there. You can stack as many cups on top of each other as you'd like with the easy to use screw-on cup bottoms!

Easy Pouring

And don't worry about having to unscrew every cup to access what's inside. The wide-mouth lid on each cup pops open for convenient, no-mess pouring!
Convenient Pill Tray
Each Stacker Bottle cup contains a pill tray lid for convenient pill storage without sacrificing space for your powders. The Stacker Bottle comes with 3 pill trays, two divided and one undivided. But you don't have to use them just for pills. In fact, many Stacker Bottle users find a variety of uses for the convenient storage the Stacker Bottle cups and pill trays offer!
Great for Snacks Too
The Stacker Bottle is great for separating snacks for kids or for a work lunch. Stacker Bottles easily fit into your refrigerator door or can even sit on your desk for easy snack access. They can conveniently store and pour fruits, candy, vegetables, and much more! The possibilities are endless. What will you use your Stacker Bottle for?
Frequently Asked Questions
Is Stacker Bottle recommended for carrying liquids?
No. This product is not made for liquids.
Is the plastic in Stacker Bottle safe?
Yes. All plastic in Stacker Bottle is BPA free. The plastic used to make Stacker Bottle is FDA approved.
The side latch and the small pill and powder trays are made of High Density Polyethylene (HDPE), and the top lid and jar are made of High Density Polypropylene (HDPP).
Can I use Stacker Bottle in the microwave?
We do not recommend using Stacker Bottle in the microwave.
How big is Stacker Bottle?
Each Stacker Bottle, consisting of 3 Stacker Cups, is 7" high x 3.5" wide. But don't forget you can stack them as high as you would like!
Is Stacker Bottle dishwasher safe?
Stacker Bottle can be used in household dishwashers, but is not recommended to be used in commercial dishwashers due to increased water pressure and temperature.