Warning: This product is not currently available at any store.
Click the button above and PricePlow will email you when the first store has it in stock!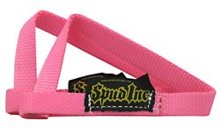 Spud Inc. 1" Wrist Straps
Spud Inc 1.5" Wrist Straps | Now on sale at
Spud's unbreakable wrist straps are essential when lifting big weights.Our wrist straps are made from soft 1.5" material that does not cut intoyour wrists. These straps will give you years of use and get evenbetter with age as they soften and mold to your wrists. Spud Straps arelong enough to wrap around a deadlift bar or regular Olympic bar for asecure no slip hold. They are great for exercises such as: deadlifts,shrugs, heavy rows, weighted pull-ups, and countless others. Plus, Spudguarantees these straps. If you break while lifting we will replace themfor FREE!

If you are a strongman looking for Lifting Straps that are long enoughto use on a big axle, then you should check out our brand new AxleStraps!