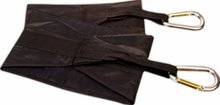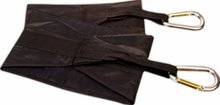 Strong, Sweat And Rip Resistant Nylon For Ultimate Durability!
Heavy Duty Hanging Ab Straps. Go beyond the basic crunch and take your Ab workout to the next level. Vertical abdominal training allows you to maximize your efforts by using your body's own resistance. Working against gravity is extremely effective in targeting those hard to train lower abs, oblique and love handles. So get off the ground and take your Ab workout vertical with our hanging ab straps.
Numerous training benefits make hanging ab straps a choice for advancing your abdominal routine beyond the basic crunch.
Isolates abs for total ab development
Easily attaches to any standard chin-up bar
Strong sweat and rip resistant nylon for ultimate durability
Extra wide, thickly padded 8" straps minimize stress to the arms and maximize comfort
Long handles provide a more comfortable grip and greater stabilization
Soft, washable, sweat resistant microsuede lining is luxurious and practical
Heavy duty steel clips give added safety and security while attaching to bars up to 1 1/4" in diameter
Maximize your efforts by using your own body resistance
Target the hard to train abs and love handles
Condition the entire body while developing rock solid abs
Comes with Instruction Sheet on how to use