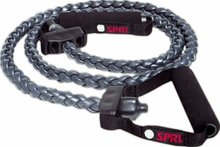 SPRI Braided Xertube Plus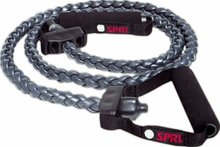 SPRI Braided Xertube Plus
SPRI's Braided Xertube Plus offers you all the benefits of the original SPRI Xertube and then some! With four SPRI tubes braided together for added durability and resistance, the Braided Xertube Plus is a powerful total-body strengthening tool. And because of its extra-long length, the uses for the Braided Xertube Plus are virtually endless.
Braided rope-like construction makes it one of the safest & toughest tubing on the market.
Longer length (16 inches longer than the Braided Xertube) allows it to be wrapped over, under or around any stable surface.
Perform all types of dynamic total-body resistance exercises alone or with a partner.
The Braided Xertube Plus takes tubing training to the next level by weaving 4 strands of SPRI's Tuff Tube together using our patented Braided Tubing Technology. Use the Braided Xertube Plus for all of your higher demand tubing exercises that regular tubing just can't keep up with.
Enjoy the long-term benefits of this product's enhanced tubing lifespan and integrity.
The Braided Xertube Plus provides an extra 16 inches of tubing length for maximum training versatility. The longer Braided Xertube Plus design makes it your go anywhere, do anything tubing product.
It can be wrapped around, under or over any stable surface allowing you to perform any and all types of dynamic resistance movements. The Braided Xertube Plus is available in 5 resistance levels (MARKED ON THE HANDLES) and is easily distinguished from the shorter standard Braided Xertube by it's contrasting dark grey metallic color.