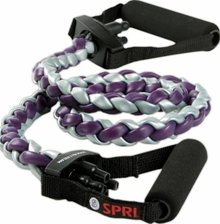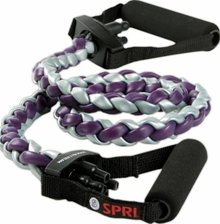 Power your workout with the new Braided Xertube from SPRI! The Braided Xertube offers all the benefits of the SPRI Xertube and more. Four SPRI Tubes have been braided together for added durability and performance creating a powerful strengthening tool for the entire body!
The Braided Xertube takes tubing training to the next level by weaving 4 strands of SPRI's Tuff Tube together using our patented Braided Tubing Technology. Use the Strength Cord for all of your higher demand tubing exercises that regular tubing just can't keep up with.
Enjoy the long-term benefits of this product's enhanced tubing lifespan and integrity. The Braided Xertube comes in various resistance levels (EACH LEVEL MARKED ON HANDLES) and is available in a silver metallic color braided together with colored tubing making it easy to differentiate between other resistance levels and from the longer version, the Braided Xertube Plus.
Braided Rope-Like construction makes it the safest and toughest tubing on the market
Stands up to the most demanding strength training exercises
Durable enough for all training environments