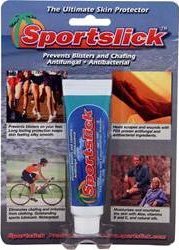 Sportslick Skin Lubrication for Athletes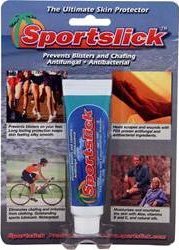 Sportslick Skin Lubrication for Athletes
The Ultimate Skin Lubrication for Athletes Description from Sportslick
Scportslick prevents blisters and shield your skin against chafing with long lasting waterproof protection. Easy to apply to your feet, legs, thighs, underarms and neck. Sportslick stays where you put it! It won't come off until you wash it off with soap. Soothing Aloe, antioxidants, Vitamins A and E, and other natural ingredients moisturize and rejvinate your skin. Created by a physicia, this unique formula combines a proven antifungal (Tolnaftate) and a popular antibacterial (Triclosan) to guard against infection.
Ingredients:
Silicone - binds to the skin for long lasting waterproof protection, Petrolatum - a proven safe lubricant and moisturizer, Polymers - for a slippery feel and a lasting glide, Tolnaftate 1% - the leading antifungal agent, Aloe - plant extract that heals and moisturizes skin, Vitamin E - antioxidant that helps Vitamin E work more effectively, Soybean Oil - plant extract that repairs and rejuvenates the skin, Natural Oil Fragrance - vanilla almond oil, Triclosan - popular antibacterial.
Manufacturer's Directions
Apply to skin to help prevent blisters, chafing and bacteria.