Warning: This product is not currently available at any store.
Click the button above and PricePlow will email you when the first store has it in stock!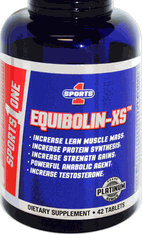 Order Sports One Equibolin-XS
Equibolin-XS by Sports One has anabolic/androgenic ratios unlike any other product on the market.  Athletes taking Sports One Equibolin-XS have seen dramatic strength increases in 3-5 days and muscle mass increases in 3-4 weeks.  Utilizing the legal endogenous steroid hormone 17-Oxoandrost-5-en-3beta-yl Undecylenate which contains an attached ester that helps produce dramatic results.  Coupling this powerful endogenous steroid hormone with a novel time released osmotic pump preparation delivering the correct amount of prohormones to the most effective and desired location in the body for maximum results in both size and strength.  This proprietary time release system utilzed by Equibolin-XS avoids the problem many prohormone encounter, degredation in the stomach or first pass metabolism while also allowing simultaneous administration of multiple prohormones.
Increase Lean Muscle Mass

Increase Protein Synthesis

Increase Strength Gains

Powerful Anabolic Agent

Increase Testosterone

Sports One Equibolin-XS Supplement Facts
Serving Size: 1 Tablet
Servings Per Container: 42
Inner Core Prohormone Tablet:       250mg 17-Oxoandrost-5-en-3beta-yl Undecylenate
Outer Core Anabolic, Androgenic and Testosterone Boosting Tablet:      380mg
Proprietary Testosterone Boosting & Anabolic/Androgenic Blend with LipoAbsorb Technology:       250mg
(25R)-3beta-hydroxy-5alpha-spirostan-6-one       30mg
(25R)-spirostan-3beta-5alpha-diol-6-one       30mg
(25R)-spirost-4-ene-3, 6-diol       30mg
(25R)-spirostan-3beta-acetoxy-5alpha-ol-6-one       30mg
5, 25-R-spirosten-3beta-ol-7-one       30mg
3B-Hydroxy-5-androsten-17-one Acetate       25mg
3beta-Hydroxyetioallocholan-17-one       25mg
Dioscorea Nipponica Makino 50-66.7:1 Extract (Rhizome and aerial parts)       100mg
Rhaponticum Carthamoides 98% Extract (root and leaves)       50mg
Ajuga Turkestanica Extract       30mg
Directions: Take 1 Tablet daily with meals.  Do not exceed 2 tablets in any 24 hour period.  Do not cycle for more than 8 weeks for maximum results