Quick Links to Our Prices
How does this work and how do stores get listed? See our disclosure below to learn more. Price History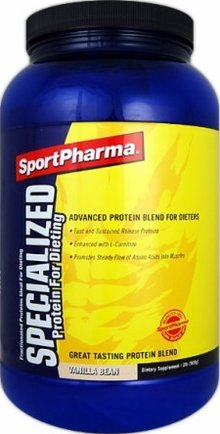 SportPharma Specialized Protein For Dieting
SportPharma SPECIALIZED Protein for Dieting uses some the finest quality, non-denatured protein sources on the market and is designed specifically for those who want to maintain lean muscle mass while dieting.* Not all proteins are created equal. In fact, no single protein source is the best for all needs. Every protein, from whey and egg to milk and soy, has its strengths and weaknesses based on bioavailability, amino acid profile, unique properties and microfractions. That's where SPECIALIZED Protein for Dieting comes in.
SPECIALIZED Protein for Dieting takes advantage of our proprietary Timed Release Amino/ Protein Technology, or TRA/P. When it comes to maintaining muscle, the key is timing and "trapping" aminos in skeletal muscles. Dieters frequently eat fewer meals and consume fewer calories per day. Under this unique situation, you want to provide a steady source of aminos throughout the day. Whey is digested too quickly, causing a rapid spike in serum amino acid levels followed by a rapid decline. Though it stimulates protein synthesis better, whey is not as effective as casein in preventing protein degradation, the real problem with dieting. The solution: isolated casein peptides. Recent studies have suggested that casein, while digesting more slowly, actually provides a more sustained and better utilized source of amino acids.* Casein is a rich source of casomorphins. Casomorphins may help slow motility and curb appetite.* Isolated casein peptides and our Pro Whey Complex increase CCK release.* Casein's high level of phenylalanine increases the brain's production of norepinephrine and additional CCK.* In whey, GMP stimulates the release of CCK in the duodenum.* CCK, a hormone released after fat or protein consumption, is responsible for signaling satiety and thus reducing appetites, a valuable tool during dieting.* Another key protein in SPM 221 is our high yield, water-washed isolated soy protein. Our WWIS protein offers benefits not found in other proteins due to its isoflavones. WWIS may support endogenous production of thyroid stimulating hormone (TSH) and thyroxin (T4), two substances which can increase your body's metabolism for increased fat burning.* During low-calorie dieting, soy has been suggested to reduce nitrogen loss and enhance fat loss over casein.
Fractionated Proteins For Dieting
Fast and Sustained Release Proteins
Enhanced with L-Carnitine
Promotes Steady Flow of Amino Acids Into Muscles*