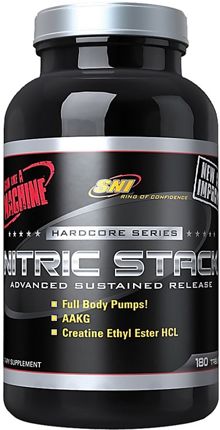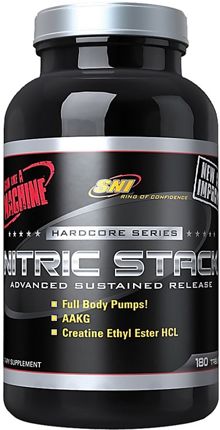 Full Body Pumps!
AAKG
Creatine Ethyl Ester HCL
PRODUCT DETAILS:
WHAT IS NITRIC STACK?
Nitric Stack is an advanced Nitric Oxide supplement utilizing a combination of ingredients to ensure athletes and bodybuildersperpetual body pumps, strength, recuperation and endurance.
WHAT IS IN NITRIC STACK?
Nitric Stack contains pharmaceutical grade AAKG and CEE HCL AAKG is the most advanced form L-Arginine, an amino acid which isconverted into Nitro Oxide. CEE HCL is the most advanced form of Creatine. Both ingredients (AAKG & CEE HCL) are essential forincreasing blood flow to your muscle for fully body pumps!
HOW DOES NITRIC STACK WORK?
Nitric Stack uses the combination of Arginine AKG and Citrulline Malate, and Amino acid which continuously recycles itself intoNitric Oxide and will continuously recycle the converted Arginine AKG in to Nitro Oxide over and over again. This combination ensuresMaximum Longer Lasting Pumps.* Nitric Stack contains Alpha Lipoic Acid, a supplement designed to rapidly deliver the active ingredientsinto the blood stream as well as phosphates, supplements that are important for delivering ingredients into the muscles.
HOW LONG DOES NITRIC STACK TAKE TO WORK?
During the manufacturing process, NITRIC STACK undergoes a special process to glaze each tablet with a film coat. This coatingprevents stomach acid from dissolving the tablet. Therefore the table is passed into the small intestine where it is does not have tocompete with other nutrients and is better absorbed into your blood stream.* The digestion in the small intestine will take up to 4 hours,therefore allowing your muscles to benefit from the nutrients during the entire digestion period.*