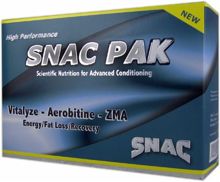 SNAC Snac Pak - Vitalyze/Aerobitine/ZMA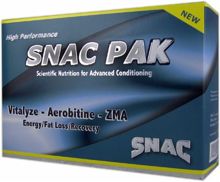 SNAC Snac Pak - Vitalyze/Aerobitine/ZMA
SNAC PAK is an innovative three bottle stack
designed to enhance the performances of men and women from everyday fitness enthusiasts to world-class athletes. In fact, many elite Olympic and professional athletes achieved their historic accomplishments with the SNAC PAK as an integral part of their daily regimens.
The SNAC PAK includes three great products including Vitalyze, Aerobitine and SNAC's flagship product ZMA.
Vitalyze - The Mental and Physical Performance Enhancer - promotes energy, mental alertness, elevates mood, and enhances concentration and reaction time.* Vitalyze helps provide the body with support for stressful conditions and optimize physical work capacity by promoting muscular oxygen utilization.* Vitalyze also helps to maintain the integrity and strength of connective tissue, ligaments and tendons.*
Aerobitine - The Ultimate Anti-Fatigue/Fat-Loss Support Formula - provide support against fatigue and promotes stamina, strength and endurance.* Aerobitine contains both L-arginine and L-citrulline malate, as well as folic acid, which has also been suggested to aid in the production of nitric oxide.* In addition, Aerobitine contains a complete anti-oxidant defense team of nutrients to effectively "quench" free radicals.* Aerobitine's more sophisticated formula provides a wide range of performance enhancing benefits while popular nitric oxide products fail to do so.*
The original ZMA - The Anabolic Mineral Support Formula - was the first product developed specifically to support recovery by promoting sleep efficiency.* ZMA promotes a deep and restful sleep which may help to restore exercise tolerance which is decreased by sleep deprivation.* This advanced formulation encourages muscle strength and endurance as well as promotes tissue repair.*
The SNAC Pak - Vitalyze/Aerobitine/ZMA. The Ultimate Energy/Fat Loss/Recovery Pack!