Warning: This product is not currently available at any store.
Click the button above and PricePlow will email you when the first store has it in stock!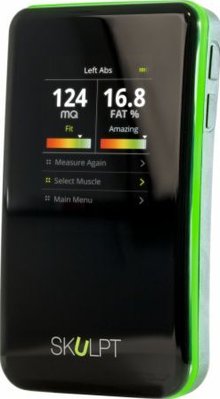 Important Shipping Information
Skulpt Aim Body Fat Analyzer will be shipped separately from the supplier and may take up to 5 business days for delivery. Trust us - its worth the wait!
Additional Images:
Click to Enlarge
Measure when you're losing fat
and gaining muscle.
Measure body fat %, with
gold standard accuracy.
Track up to 24 different muscles to
help optimize training.
Measurements take seconds for
effortless fitness tracking.
Let your muscle speak
for themselves.
Aim measures 24 muscle on your body. Track your progress by muscle, optimize your training to a cheive results sooner, and track asymmetries.
Muscle Quality (MQ)
Muscle quality is a rating of the
muscles' fitness where 100 is average.
Higher MQ scores mean stronger,
leaner, and more fit muscles. Muscle
Quality is the force a muscle produces
relative to its size.
Innovative Technology
Aim's 12 sensors send a small current through each muscle, to measure its quality and the surrounding fat. Aim picks up thousands of data points per second for very precise and accurate results.

Developed for the medical space by co-founders from Harvard and MIT, Aim's proprietary technology has been validated through dozens of clinical trials and has been used in collboration with NASA.
How It Works
Track your Progress
Download Skulpt's app on iOS or Android to track progress for each muscle, and see a "heat map" of your body based on your strongest areas and the muscles that need work.
"The Skulpt Aim stands out from the crowded (and ever growing) field of fitness trackers by measuring not only body fat percentage but also the quality of individual muscles."
Men's Fitness